How Retail Leaders are Embracing Disruption with MACH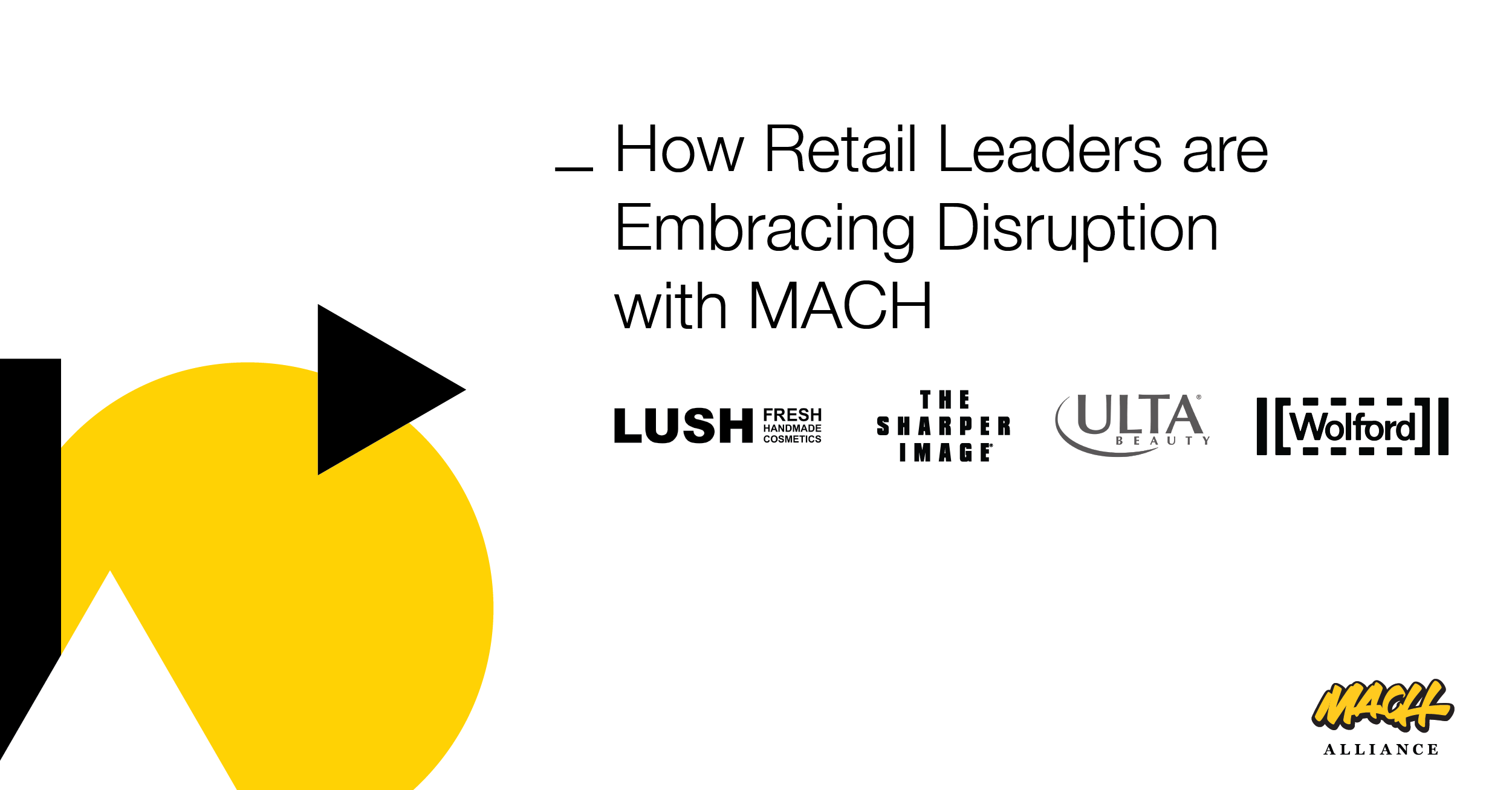 There's no denying the impact of COVID-19 on the retail landscape. Now more than ever the need for digital acceleration is high, and retailers are pivoting their efforts towards modern experiences in order to differentiate their brand and put themselves in a position to survive and thrive.
In our recent webinar, hosted by Newstore, we spoke to MACH Ambassadors from LUSH, Sharper Image, Ulta Beauty, and Wolford to look at how the past 18 months have disrupted the retail space, how the technical teams they lead have responded in a year of rapid change, and why a MACH architecture is a crucial part of their future-fit strategy.
The webinar also showcased the Changing Room Self Checkout experience, a MACH solution built by E2X using commercetools and Amplience that blends physical and digital retail to provide a smoother checkout journey in-store.
Read below for some of the points brought up by our panelists, and check out the webinar replay to hear the full story.
Covid-19 Highlighted the Digital Skills Gap
"What we see is that the pandemic really exposes existing weaknesses." says Rainer Knapp, Global Director IT & Digital at Wolford, "It accelerated emerging trends, like MACH, and forced organizations to make structural changes faster than they had planned."
For retailers who had been putting digital business on the back burner, this meant the last 18 months have been all about playing catch-up. While retailers who had already started to modernize their architecture we're continuously the first to market with experiences that catered to changing customer needs.
"Take curbside pickup for example. It went from an emerging trend in retail to something that was a requirement overnight." says Eric Halvorsen, Senior Manager, Digital Architecture at Ulta Beauty. When faced with this challenge, Ulta Beauty was able to create a new curbside pickup experience on top of their existing buy online pick-up in store (BOPIS) system in only a week's worth of development time.
"The reason why we were able to do that," explains Eric, "is because we've been on a MACH journey for a while now and we had built our entire buy online pick up in store based on API-first, headless principles. So we were able to quickly create that new experience in a very short period of time to adjust to that change in expectation around the customer experience."
The panelists agreed that while a wave of innovative retail solutions have gone live this past year, the disruption is a catalyst to even bigger changes in the industry. As Mihaela Mazzenga, Chief Technology Officer at Sharper Image, puts it, "I think the adoption of the new normal is truly just getting started."
A MACH Foundation for A Flexible Future
Part of the new normal in retail is that customer expectations will continue to change.
"One of the major challenges is that nobody can say what will be on the agenda in two years." says Rainer, "For example, which frontend will be the hottest in eCommerce? Will it still be the smartphone, the screen in a car, or a rollable foil that you apply on different surfaces? To stay ahead of our competition our solutions need to be flexible, adaptable, and extensible to allow for immediate reaction when new requirements arise."
Part of that flexibility, according to Rainer, comes from stepping away from traditional monolithic software suites and towards a stack of best-of-breed tools. "Technology leaders today need the freedom of choice to use and access the solutions that are the best fit for their use case, their budget, and the skills and structure of their teams. MACH principles allow you to do just that."
Nicole Belling, Head of Commerce at LUSH, also points to the move from monolith to MACH as a key part of her team's ability to react to customer needs. Especially in the way that a composable, MACH architecture allows them to explore the value-add of one experience at a time.
"Looking at the kind of investments we do, especially in the last year to eighteen months, it's almost feature-led." says Nicole, who shared that not only does a feature focused technology approach allow LUSH to bring customer benefits to market faster, it also means that each investment is relatively small. "We don't have to buy into a huge proprietary system that's all-singing, all-dancing because as a business we just don't need that."
The need to move from a one-size-fits-all software suite to a stack of integrated solutions points to the paradigm shift happening across many industries. With digital expectations continuously changing, companies are selecting technologies that won't hold them back in the future.
"I think MACH right now is really aligning with the disruption that we're seeing." says Mihaela, "It's not truly just about MACH, it's also about the fact that we're dealing with old technologies, and old architectures that have become complacent and they're coming to sunset. So since it's time to do something new, let's take a look at the best practices that are out there and see how we can apply them within our own organization and adopt them. Making sure that we don't repeat the same mistakes again, as far as not becoming complacent and taking a more collaborative and innovative approach. I think MACH is truly the epitome of all of those needs.
Long-term Cultural Change
Designing an architecture around the ability to adapt does, naturally, mean that companies who do so need to be comfortable with continually modifying their business practices.
"It's more than just something you can do for the next six months and then dust your hands off and it's done." says Eric, "It's a really different way of thinking about solving the problem."
Shifting the mindset of everyone in the organization can be a challenge, especially for businesses with deeply entrenched legacy technologies.
"If you've been operating on the same suite for 10 years, you've probably become complacent." says Mihaela, "Certainly, this change can be a heavy lift. It requires a fundamental change to agility within the organization. You can not change the tech without adoption of agile and acceptance of change and speed of change, and that's a fundamental issue."
The panelists shared practices that have helped their organizations adopt this change, including:
Define shared KPIs early and revisit them often.
Take advantage of quick prototypes to showcase the goals and progress of new experiences.
Clarify processes and API interdependencies, even for small pilot projects, to put yourself in a good position to scale later on.
"You also need to know when to throw something away." adds Erik, "Sometimes what you learn from doing an experiment or a proof of concept is more valuable than what you've actually created and you can take that learning into the next experience."
The Bigger Potential of Digital Engagement
As organizations put the tools and processes in place to quickly adapt, and as consumers become more comfortable and curious about new technologies, the scope of what brands can do with digital is getting wider.
"I think it's important to highlight that when we talk about omnichannel it's not just about sales." says Rainer, "You can genuinely stand for strong values, be committed to your cause and your heritage and can create engagement with your vision. That goes beyond just selling stuff at the best possible price."
For example, sustainability is a core value at LUSH and they wanted a solution that addressed the large amount of packaging waste in the beauty industry. For their line of unpackaged, or "naked", products they needed a unique way to provide the industry-required product information that was usually found on the label. Working with Datatonic, they created a machine learning solution that could recognize the different hand-made products and deliver product information to a customer's phone.
"I think those are the things that can really elevate the brand." says Nicole, "When you're fixing a problem that is beyond a driver of the sales, you're fixing a problem that other industries could probably adopt, and thinking about a new way of working. Because the bigger problem we all have is what can we do to create a more sustainable living than we've got."
"When you use technology in that way I think it can be really powerful, both to the customer and to long term strategy." says Nicole.
MACH Retail Showcase: Changing Room Self Checkout
The last 18 months have not only disrupted how we shop online, but will impact our expectations around the in-store experience as well. Retailers are bringing digital onto the floor space to engage customers in new ways, implement more hygienic practices, and create a more convenient shopping experience.
To showcase the possibilities of connecting in-store and digital experiences the MACH way, a team of system integrators at E2X used the commercetools commerce platform and Amplience headless content management to create a solution that lets shoppers scan and pay for items from a tablet in the fitting room. Providing a scalable way for retailers to suggest related items and eliminating long checkout lines.
To see the solution in action, check out the demo video of the Changing Room Self Checkout, or watch the full webinar reply to learn about the process behind it and how it can adapt to a wide range of physical retail scenarios.
Retail Showcase Webinar
Connecting in-store & digital experiences the MACH way
We spoke with MACH Ambassadors Mihaela Mazzenga, Nicole Belling, Rainer Knapp, and Eric Halvorsen about how their teams have adapted to meet the changing needs of customers throughout the pandemic, and why they are adopting a MACH strategy to prepare for a future of continual disruption.
"One of the major challenges is that nobody can say what will be on the agenda in two years. Which frontend will be the hottest in eCommerce? Will it still be the smartphone, the screen in a car, or a rollable foil that you apply on different surfaces? To stay ahead of our competition our solutions need to be flexible, adaptable, and extensible to allow for an immediate reaction when new requirements arise." - Rainer Knapp, Global Director IT & Digital at Wolford
.