VTEX joins the MACH Alliance to Drive the Growth of Composable Commerce Technology Around the Globe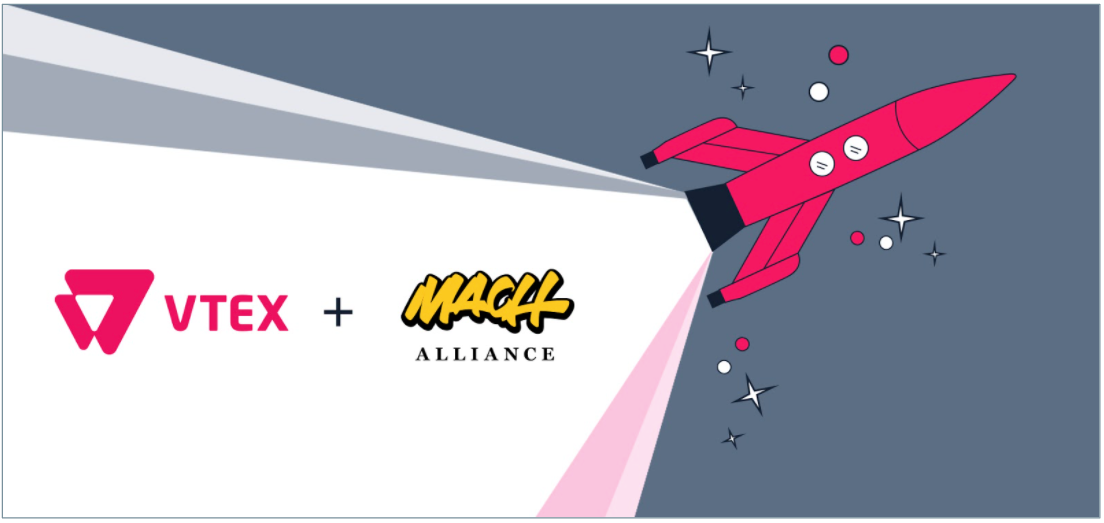 MACH Alliance certifies the VTEX Commerce Platform as a modern, composable commerce and marketplace solution
NEW YORK, June 24th, 2021 - VTEX, the world's fastest-growing1 commerce platform with native marketplace and order management capabilities, announced today it is joining the MACH Alliance to accelerate adoption of composable commerce, marketplace and order management services (OMS) to enterprise organizations worldwide.
The MACH (Microservices-based, API-first, Cloud-native, SaaS and Headless) Alliance is a group of independent tech companies dedicated to advocating for open, best-of-breed technology ecosystems. VTEX joins the non-profit co-operation of technology companies to help enterprise business leaders transform to customer-first organizations by leveraging the speed and flexibility that headless and composable commerce solutions provide.
"We're thrilled to welcome VTEX to the MACH Alliance family," said Sonja Keerl, MACH Alliance President. "VTEX is dedicated to delivering best-of-breed digital commerce and marketplace solutions to brands around the globe while advocating for open technology systems that ensure their customers have the best solutions no matter what."
With VTEX's low-code development platform, merchants can compose commerce solutions tailored for their unique business and quickly adapt as new selling channels emerge, customer preferences change, and business needs evolve. This platform-as-a-service lets customers focus on business outcomes rather than technology support and maintenance. We plan to evangelize the benefits of MACH plus low-code as an active member of the Alliance.
"We're honored to join so many other forward-thinking leaders in the MACH Alliance," said Amit Shah, Chief Strategy Officer and U.S. general manager at VTEX. "In a constantly changing retail landscape, technology must be modular and flexible to meet these evolving needs. Having our commerce platform certified by the MACH Alliance reaffirms that we're providing the right support for businesses to continually innovate and evolve."
VTEX is currently the only MACH Alliance member to offer a marketplace platform for enterprise organizations that seek to launch and run their own online marketplace.
"VTEX has been instrumental in helping us provide even better service for our customers, and we're excited at the prospect of them joining the MACH Alliance to enable more innovation in that space," said France Roy, Chief Technology Officer, Direct-to-Consumer at AB InBev.
To learn more about VTEX and how it supports some of the world's largest retail and B2B brands, visit http://www.vtex.com.
To learn more about the MACH Alliance and how to join the forward-thinking enterprise software collective, visit http://www.machalliance.org.
###
1 IDC Worldwide Digital Commerce Applications Market Shares, 2019: Headless Commerce Goes Mainstream
About VTEX
VTEX is a multinational tech company that provides a global, fully integrated, end-to-end commerce solution with native marketplace and OMS capabilities. We help enterprises in retail, manufacturing, wholesale, grocery, consumer packaged goods and other verticals to sell more, operate more efficiently, scale seamlessly and deliver remarkable customer experience. Our modern APIs architecture and our powerful business and developer tools allow VTEX to future-proof our customers' businesses and free them from software updates. Major brands including Whirlpool, Sony, Carrefour, Adidas, Stanley Black & Decker, AB InBev, Nestlé and Coca-Cola Andina, plus 2,500 active online stores across 32 countries, trust VTEX to accelerate and transform their commerce. Visit http://www.vtex.com to learn more.
About the MACH Alliance
The MACH Alliance is a [501(c)(6)] non-profit organization, governed by an independent board and does not endorse specific vendors, members or otherwise. The Alliance was formed in June 2020 to help enterprise organizations navigate the complex modern technology landscape. It aims to guide and show the business advantage of open tech ecosystems that are Microservices based, API-first, Cloud-native and Headless. All MACH Alliance members meet certification principles that are published on the website.
Founding members include: commercetools, Contentstack, EPAM Systems (NYSE: EPAM) and Valtech. The MACH Alliance welcomes technology companies and individual industry experts who share the same vision for the future. Learn more at machalliance.org, read here about MACH certification and follow us on Twitter and LinkedIn.
Media Contact
Kiley Ribordy, PR Manager
312-267-0064