MACH Alliance Nears 60 Members with Latest Wave of New Joiners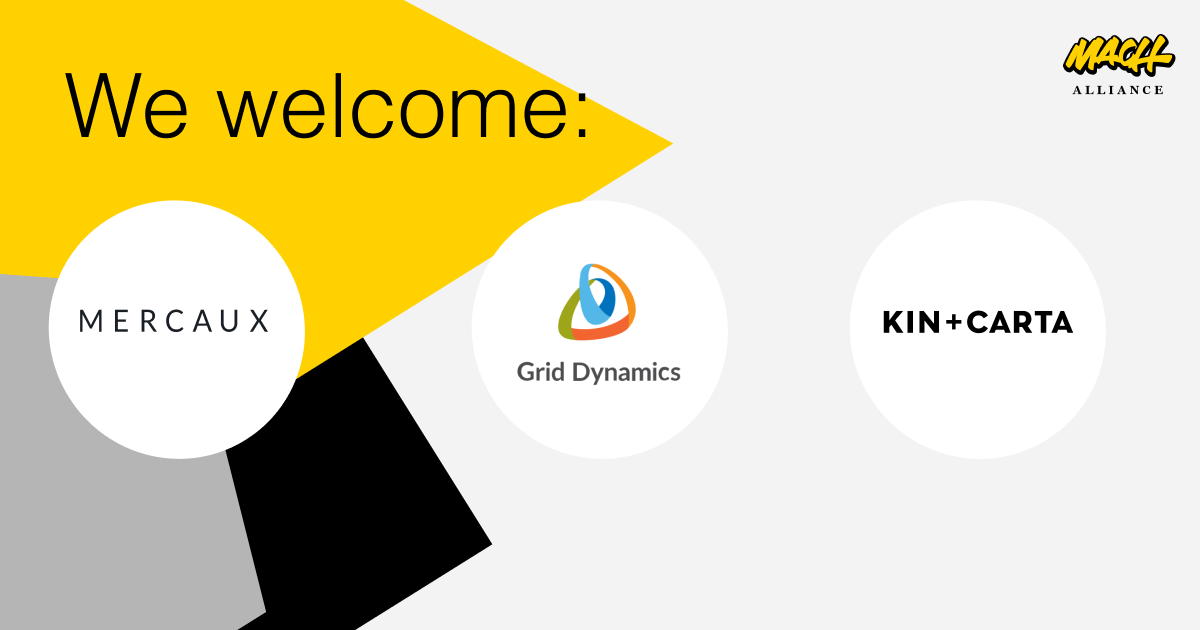 16 May, 2022 - San Francisco - New York - London - Amsterdam - Berlin - MACH Alliance, the group of independent tech companies dedicated to advocating for open, best-of-breed technology ecosystems, announced today it has signed on three new member companies as the group nears 60 total members. The Alliance's fast growth since its June 2020 launch signals the continued momentum of the MACH movement, as business leaders seek a better, more flexible approach to managing digital architecture.
The new members are:
Grid Dynamics - Grid Dynamics (NASDAQ: GDYN), a global digital engineering company, co-innovates with the most respected brands in the world to solve complex problems, optimize business operations, and better serve customers. Driven by business impact and agility, the company creates innovative, end-to-end solutions in digital commerce, AI, data, and cloud to help clients grow.
Kin + Carta - Kin + Carta is a global digital transformation consultancy committed to working alongside its clients to build a world that works better for everyone. Its 2,000 strategists, engineers, and creatives bring the connective power of technology, data, and experience to the world's most influential companies. As a Certified B Corp and with a triple bottom line focus on people, the planet, and profit, the consultancy helps its clients to deliver products, platforms, and services that are accessible, inclusive, and sustainable.
Mercaux - Mercaux is a next generation composable in-store platform. The company helps transform retail stores from a simple point of sale into a multi-purpose center, empowering shoppers (both in-store and remotely) and sales associates by facilitating an omnichannel product discovery, clienteling, remote selling and checkout experience that also serves as a customer acquisition and data capture channel.
A MACH architecture, which stands for Microservices, API-first, Cloud native SaaS and Headless, gives companies a deeper level of agility, allowing them to deliver new features to customers at speed. It is fundamentally changing the way enterprise software is developed and utilized across virtually every industry.
"A brand's digital experience is no longer simply a value-add to their physical presence; in many cases, digital is their entire presence, and therefore, getting it right is mission critical for success," said MACH Alliance President, Sonja Keerl. "As more and more reputable companies like our newest four members join the Alliance, we're demonstrating to the global business community that we will not settle for an obsolete, legacy approach to digital. There is a better way, and that way is with MACH."
All members of the MACH Alliance meet a stringent set of certification standards. To become an Alliance member and carry the MACH Certified seal, a company must be in full compliance.
In June (28 & 29) the Alliance will host its first annual conference MACH ONE in London, where executive leaders, technology decision-makers and MACH practitioners from the growing global MACH ecosystem will come together to discuss the latest developments, share experiences and show the speed and versatility with which MACH propels digital experiences.
Learn more at machalliance.org.
About the MACH Alliance
The MACH Alliance is a [501(c)(6)] non-profit organization, governed by an independent board and does not endorse specific vendors, members or otherwise. The Alliance was formed in June 2020 to help enterprise organizations navigate the complex modern technology landscape. It aims to guide and show the business advantage of open tech ecosystems that are Microservices based, API-first, Cloud-native and Headless. All MACH Alliance members meet certification principles that are published on the website.
The MACH Alliance welcomes technology companies and individual industry experts who share the same vision for the future. Learn more at machalliance.org, read here about MACH certification and follow us on Twitter and LinkedIn.