MACH Alliance Announces New Members Capgemini, Sitoo and Vercel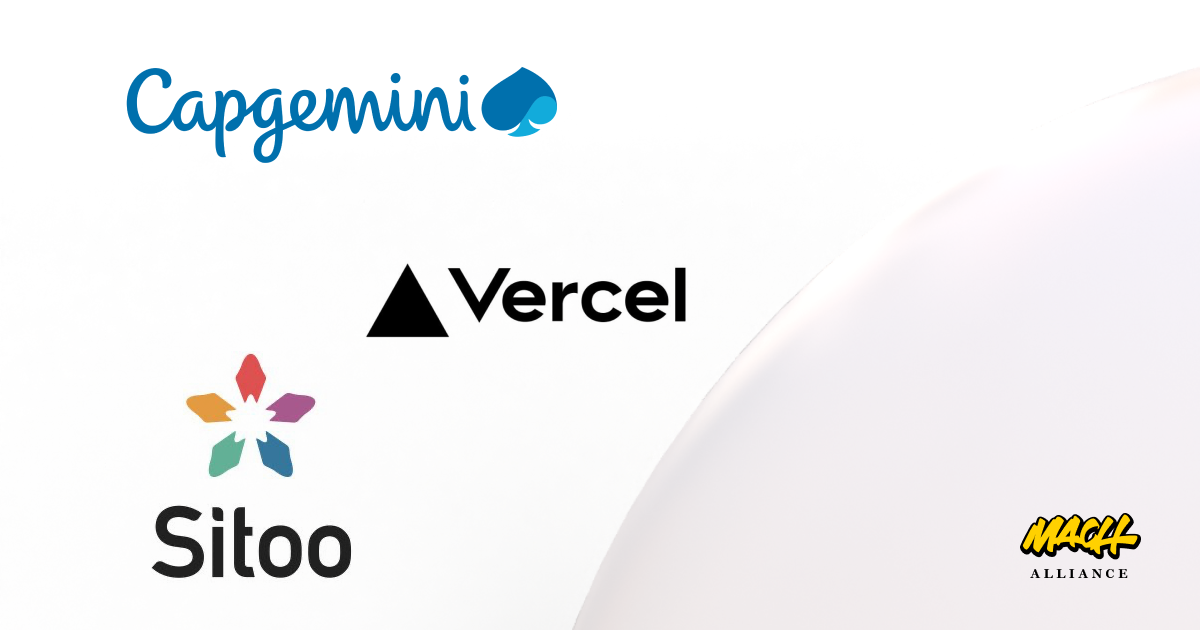 MACH Alliance Announces New Members Capgemini, Sitoo and Vercel
18 July, 2022 - San Francisco - New York - London - Amsterdam - Berlin - MACH Alliance, the group of independent tech companies dedicated to advocating for open, best-of-breed technology ecosystems, announced today three new certified members. The momentum comes as the Alliance just recognized its second anniversary and the gathering of over 400 industry leaders at its inaugural MACH ONE event in London.
Here's more on the latest round of new members:
Capgemini: is a global leader in strategically partnering with companies to transform and manage their business by harnessing the power of technology. The company is trusted by clients to address the entire breadth of their business needs, from strategy and design to operations, fueled by the fast evolving and innovative world of cloud, data, AI, connectivity, software, digital engineering and platforms.

Sitoo: is a world-leading Unified Commerce Platform anchored by Point of Sale (POS) for global retailers. It provides a cost-efficient, game-changing technology that enables retailers to unify all their stores and online sales channels, in real-time.

Vercel: is a leading frontend cloud platform that facilitates a fast and enjoyable development and deployment experience for anyone. With Vercel, developers can create incredible web experiences for their end users where performance is the default. The team behind Vercel are also the creators and supporters of open-source frameworks and projects like Next.js, Svelte, and Turborepo.




A MACH architecture, which stands for Microservices, API-first, Cloud-native SaaS and Headless, gives companies a deeper level of agility, allowing them to deliver new features to customers at speed. It is fundamentally changing the way enterprise software is developed and utilized across virtually every industry.
"This latest wave of new members continues to demonstrate that business leaders have a shared view for what drives a successful digital experience today," said Holly Hall, MACH Alliance's newly appointed Managing Director. "That requires technology that is pluggable, replaceable and flexible so that evolving business requirements can be met. We're honored to have Capgemini, Sitoo and Vercel on board with us to champion this approach, which has become the new standard for digital excellence."
All members of the MACH Alliance meet a stringent set of certification standards. To become an Alliance member and carry the MACH Certified seal, a company must be in full compliance.
Learn more at www.machalliance.org.
About the MACH Alliance
The MACH Alliance is a [501(c)(6)] non-profit organization, governed by an independent board and does not endorse specific vendors, members or otherwise. The Alliance was formed in June 2020 to help enterprise organizations navigate the complex modern technology landscape. It aims to guide and show the business advantage of open tech ecosystems that are Microservices based, API-first, Cloud-native and Headless. All MACH Alliance members meet certification principles that are published on the website.
The MACH Alliance welcomes technology companies and individual industry experts who share the same vision for the future. Learn more at machalliance.org, read here about MACH certification and follow us on Twitter and LinkedIn.