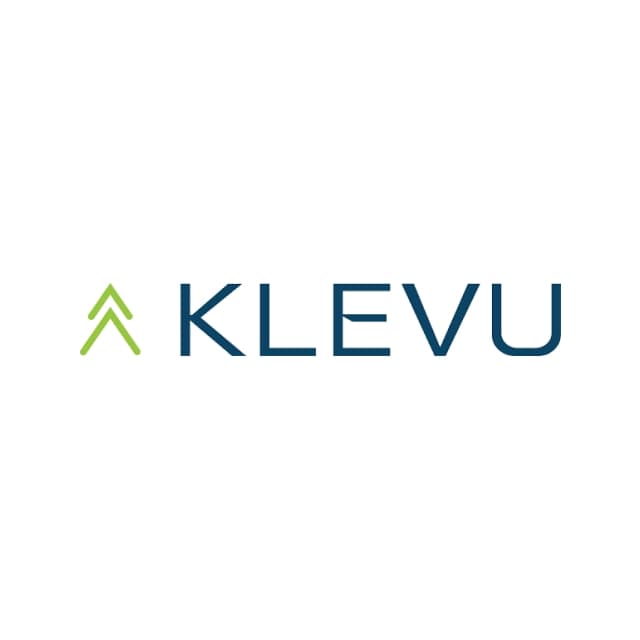 MACH Alliance partnerships
Driving product discovery forward with AI and MACH
The dawn of artificial intelligence (AI) has had a profound impact on every part of the customer journey. The promise of systems that can learn customer behaviour and automatically respond with the best content, offers, advice or pricing, is incredibly attractive to brands and retailers.
Nowhere is this attraction more greatly felt than at the point of product discovery, where software that can understand what the customer wants and can lead them straight to it, can accelerate revenue and increase team productivity by an order of magnitude.
Klevu is an AI-based search and product discovery platform combining keyword search with vector-based semantic and image search.
This provides product recommendations in search, on category pages, and in product recommendations banners; managed by an easy to use dashboard.
Based on contextual machine learning that evolves with every click, purchase, and product review, Klevu's AI technology capitalises on this data to increase conversion, reduce bounce rates and drive loyalty for more than 3,000 leading global e-commerce businesses.
Recognizing that e-commerce isn't one-size-fits-all, Klevu seeks to make AI-powered product discovery truly omnichannel and expand this capability beyond websites.
Klevu looks to a headless strategy to add AI-based product discovery to apps, Smart TV interfaces, games, or any other platform customers use to engage with brands.
Consequently, Klevu joined the MACH Alliance in August 2022 and is currently working with headless platform providers, such as commercetools, whilst developing partnerships with other microservice providers.
This collaboration has included the development of Headless SDK that makes it easier for developers and solution integrators to build custom storefronts and connect headless front end experiences with Klevu's open APIs.
Elsewhere, Klevu's Visual Discovery enables shoppers to use real-world photos to search for similar products, and uses computer vision combined with product data to show visually similar product recommendations from product catalogue images.
These innovations have been driven by Klevu's in-house "AI Lab", whose research scientists continue to experiment within linguistics, machine learning and computer vision to refine the platform.
Current areas of research include image processing, conversational commerce, natural language processing, and predictive analytics. Elsewhere, Klevu is assessing how its AI can power other technologies, to make the proprietary technology even more accessible and composable within MACH e-commerce architectures.
For further detail on MACH at Klevu, please contact the team.