Why is Gartner so excited by new digital commerce waves?
The analyst firm, Gartner, is one of the world's most influential forces for understanding emerging technology trends and their impacts. It is a crossroads moment that Gartner has published a new report that defines, explains and amplifies the modernization and modularization movement in its latest Hype Cycle for Digital Commerce.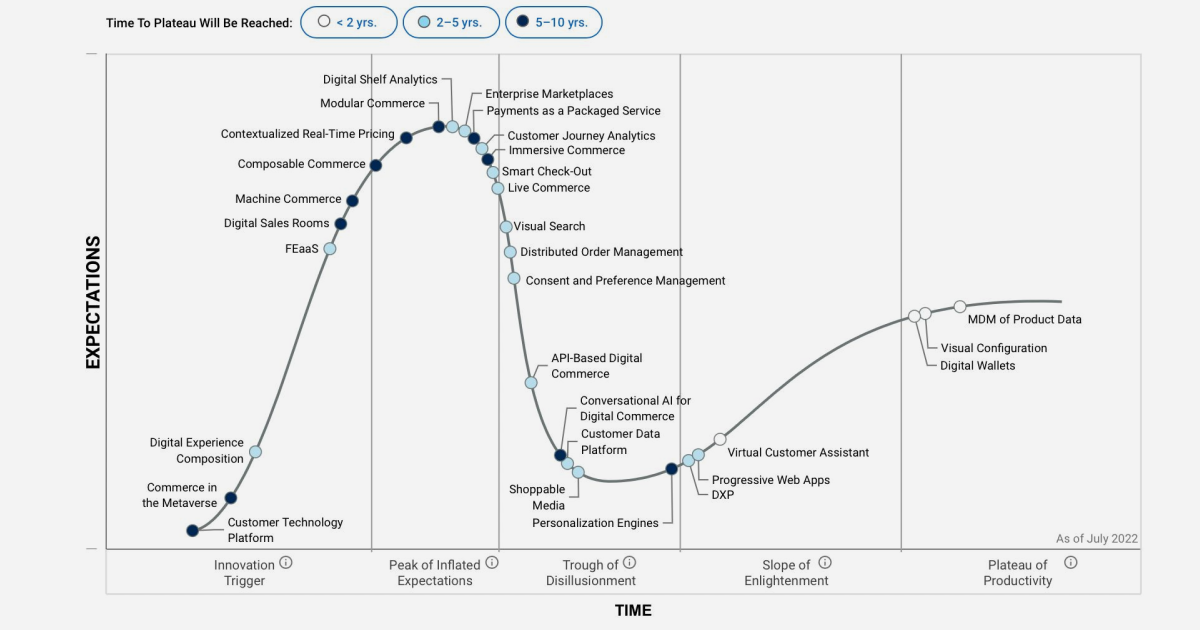 Let me pick out just a few highlights. Gartner's finding that API-based digital commerce, which it places in its dreaded "trough of disillusionment" stage, stands in stark contrast to the booming fortunes of headless commerce, which is a key tenet of the MACH Alliance. Gartner says API-based digital commerce has somewhere between five and twenty percent penetration and is up to five years from reaching its "plateau of productivity" when all the wrinkles are ironed out. I say that headless is already there…and there to stay.
It's also good that Gartner separates three related phenomena in Composable Commerce, Modular Commerce and API-based Commerce under its digital commerce umbrella. Modular Commerce, I would define, as breaking up commerce into component parts for ease of flexible reassembly. In a nutshell, the world is moving away from monolithic approaches and it's good that Gartner is doing fine work in picking out the nuances in different approaches. That can only help the thousands of commerce operations that want a more flexible, adaptable and snap-in approach that fits a world where platforms, value channels and user demands are so unpredictable.
Gartner has coined a useful TLA to describe what companies like commercetools, Uniform, Occtoo and others are doing: DXC, Digital Experience Composition.
In its own words:
"DXC is emerging to handle digital multi-experience orchestration in a 'headless,' decoupled, composable world. Extending from front end as a service (FEaaS) or 'visual page builders', these tools allow developers to set up digital experiences and hand them to business users for day-to-day management in no-code environments."
That's a good summary that will help us all comprehend and explain what's going on because technology waves can be tough to follow and understand. Vendors are often far from blameless in this as they attach their brands to whatever is hot.
The paradigm shift we are observing is a move away from an approach where vendors provide an all-in-one offering based on what they think works best (and leaves them holding all the cards) to one where services are flexible, tightly integrated but loosely coupled, thus, providing customers with optimal choice and freedom to flex. Having Gartner create a lexicon and a framework will take us a step forward to an evolving commerce model that gives us far greater freedoms than were ever possible in the past.
In my mind, the change looks something like this:

There are a host of companies generating the DXC waves (some will like the term, some will not), Virtual Identity, Algolia, AWS and Cloudinary to Amplience and EPAM Systems. Just as important are the commerce companies themselves that recognize what DXC can do for them, from River Island, Boohoo and MOO to Mars, Costa Coffee and Halfords.
The Gartner recognition is just another milestone. We still have some way to go in the many changes impacting and improving digital commerce activities, but we're getting there fast.
Kelly Goetsch is Chief Strategy Officer at commercetools