When and How to Move From a Monolithic Approach to a Composable Platform Ecosystem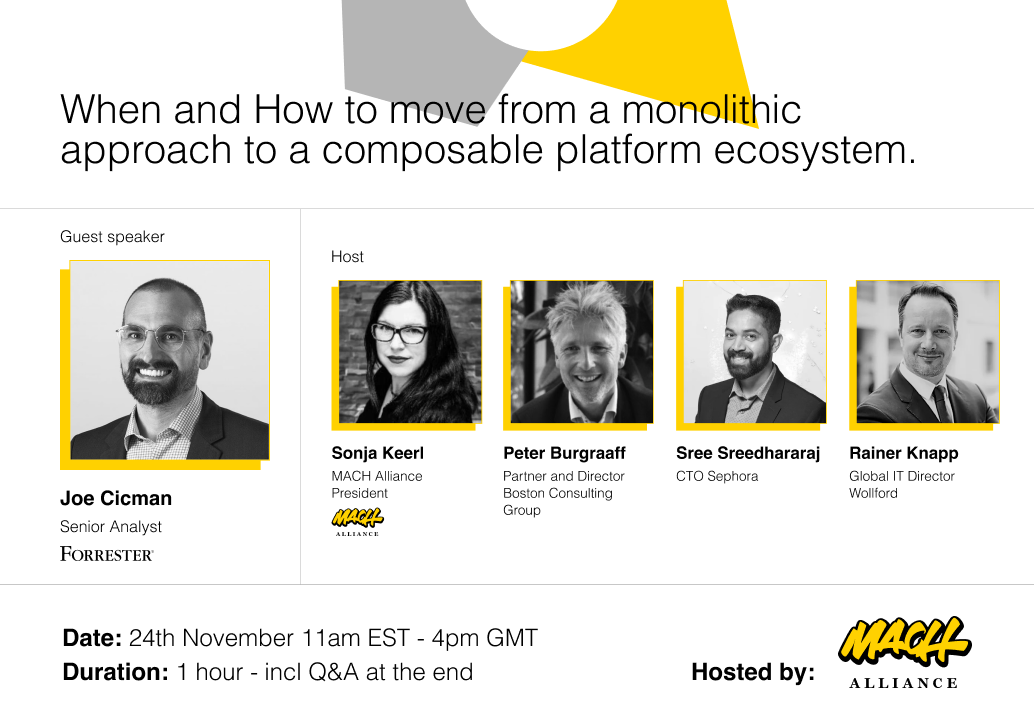 Last week, MACH Alliance's Sonja Keerl hosted an insightful (and fun) session on how to tackle a business's transformation from a monolithic ecommerce platform into a holistic, composable and flexible platform ecosystem.
Alongside our Forrester guest speaker Joe Cicman, we had a panel of MACH ambassadors sharing their expertise and experiences in having gone through such a transformation of moving to future-fit composable architecture. Peter Burggraaff, Partner & Director - Digital & Technology in Retail at Boston Consulting Group, Rainer Knapp, Global Director IT & Digital at Wolford and Sree Sreedhararaj, Chief Technology Officer at Sephora, joined the conversation and walked us through the obstacles they faced in moving away from a monolithic environment, the reasons why it's necessary, and advantages that come as a result.
For the full story, watch the recording when you get a chance. But first, here are some highlights of Joe Cicman's opening presentation.
Customer journeys are not simple, but great ones are rewarding
Customer journeys are not linear. And customers ⁠— not you, nor your platform⁠ ⁠— are in charge. As B2B professionals, you need to fully understand your customers' connections across three dimensions: devices, platforms, and channels, says Joe. Map your portfolio of experiences so that you're present where your customers are.
Your digital experience platform is how you build experiences to support buyer journeys, with talent that you employ to build these journeys. Your practitioners need flexibility built into their tools because they don't have time to constantly rely on developers. It's not just about better employee experience, says Joe. The point is that great customer experience leads to business growth.
Understand the contrast between monolith vs microservices
Microservices architectures give vendors outpaced and outsized pace relative to vendors with monolithic architectures said, Joe. He further outlines five key differences to tell a monolithic system apart from a microservices based one.
1. Monoliths make you choose between upgrading and innovating; microservices are version-less.
2. Monoliths have complex scalability. Customers may even have to inform their vendors ahead of campaigns to make sure their systems have the capacity to handle a sudden business surge. In a microservices environment, scaling can be done in the backend, where volume, capability and access can be increased without disrupting the user experience.
3. Vendors of monoliths have slow development speed when it comes to innovation delivery.
4. Monoliths rarely have best-in-class capabilities. Microservices development runs on independent pieces of software that can be hand-picked from a pool of best-of-breed technology and added on to the stack.
5. Monoliths often result in a very high cost of talent because of its specificity and usability, whereas in microservices development, the cost of talent is open-market.
Is your business digitally mature?
Joe uses data from 2020 to take us through some of the things that constitute digital maturity. The companies that were considered digitally advanced were first investing in themselves to improve IT capabilities that they needed for agility and innovation. Second, instead of focusing on reducing costs, they got better at operations by using the cloud and building platforms. SaaS, infrastructure services, and digital experience platforms are specifically the technologies that advanced firms invested in to drive their transformations.
Ways you can migrate your commerce solution
You need modern technology and methods to adapt to unpredictable market conditions, says Joe. One, and the simplest, strategy is to launch brand by brand, or region by region. This allows your team to learn how to migrate end to end with low risk. Identify customers with whom you have strong relationships to pilot the new platform, he says. The second strategy is to launch flow by flow. This allows your teams to deliver improved experiences to all customers. You can break down experiences into flows, identify different revenue levels and usage patterns associated with them. Page by page, the third strategy, is the most sophisticated. It provides the model for future experimentation and innovation. It's only feasible if you've already decoupled the experience layer.
Important! Think differently about build vs buy
Turns out that in the cloud, there is no such thing as pure buy or pure build. In the digital era, software is an expression of the business, states Joe. Customization is when you buy a thing, and you need the inner workings of the thing to work differently in order to match how you do business. Composing is when you assemble the thing from specialty parts, putting them together in a way that optimizes for what you're trying to achieve. Some parts, you might create yourself and assemble them into the whole. Rather than a binary build versus buy choice, firms actually have a spectrum of delivery options that represent various common combinations of purchase software and custom development. And all of this evolution has driven massive changes to both packaged apps and custom development platforms. This is the new reality of ecommerce, says Joe. It's why you need modern skills in order to take advantage of modern technology.
So how bad is it if you don't take the digital red pill?
Our webinar also served as a kind wake-up call reaching all enterprises working on digitalizing or improving their B2B customer journey. A question from our audience was, is it bad if you don't switch to a composable platform ecosystem? The consensus was that yes, it actually is. The conversation revealed many experience gems, but to summarize, if you don't change your platform to microservices, you won't be able to keep up with customers' demands. You won't be able to adapt to customer needs and expectations fast enough and move as quickly as they need you to. Customers really want to determine for themselves where, how and when they receive relevant information and services. And as Sree Sreedhararaj puts it, "if your technology is a way for you to say no to a customer, that's gotta be bad, right?"
Get your answers on how to make a shift to composable eCommerce. See the full webinar and please don't hesitate to contact us if you want to continue this conversation with us.