The Current (and Future) Age of Retail Ecommerce Demands Headless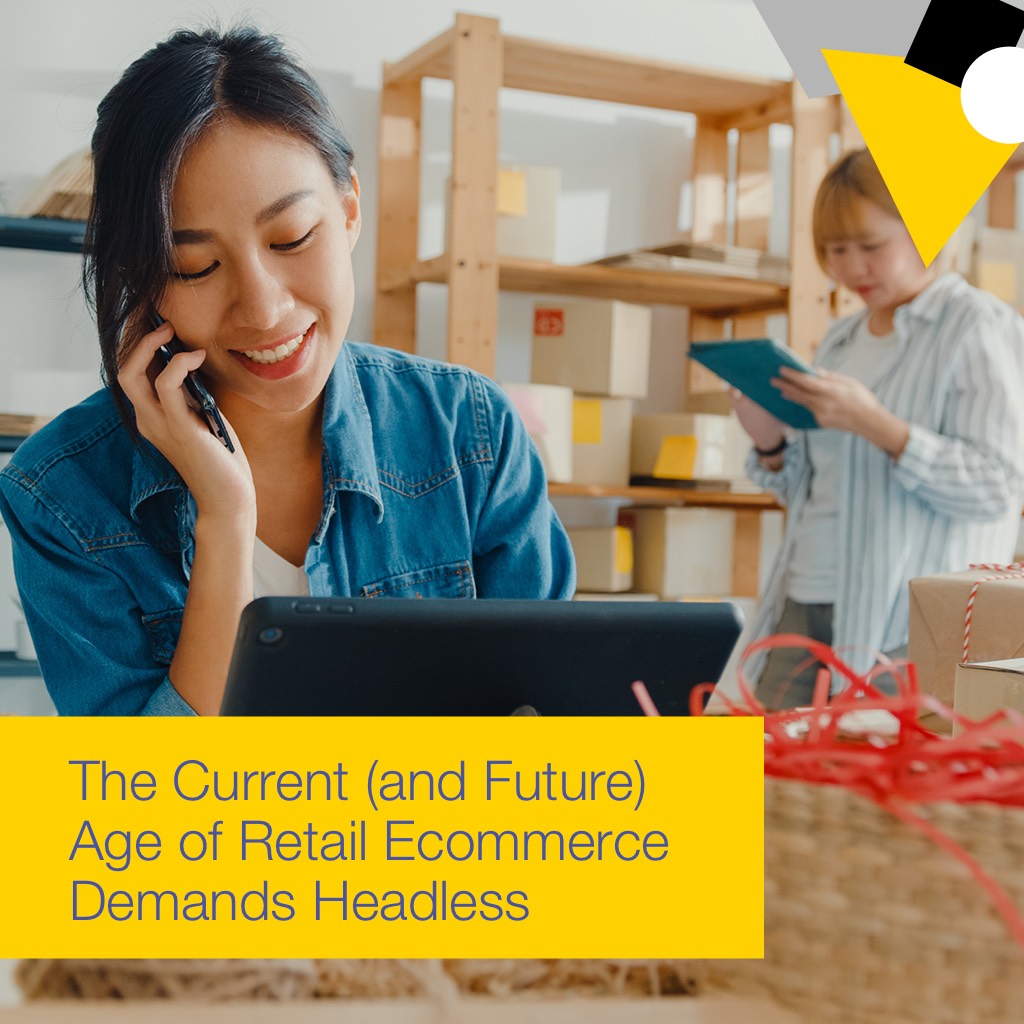 Now more than ever, online businesses need to be flexible. What customers demand is always changing, and successful businesses have to be able to adapt quickly.
Luckily, modern technology has kept pace with these requirements with more API-led solutions in market. To meet their needs, businesses are turning away from monoliths in favor of MACH technology architectures. These API-led, modular systems enable businesses' fast-paced innovation.
While a full microservices approach may or may not be the right choice for your business, today we're considering the advantages of the H in MACH: headless. Let's dive into how decoupling the front-end and back-end systems can give you a more flexible, adaptable system.
Why Now?
Ecommerce is always growing and changing, but the velocity of change over the last year has put us in uncharted water. Consider these numbers:
Global ecommerce sales are expected to grow to $6.4 trillion by 2024.
Online spending represented 18.6% of total retail sales for the first two quarters of 2020.
B2B ecommerce sales increased 10% in 2020, despite total U.S. manufacturing and wholesale sales decreasing by 2.6%.
Ecommerce was never going anywhere, but the past year fast-tracked a lot of changes. Shifting consumer behavior and unprecedented demand for online shopping coupled with increased shopper expectations and rising competition have created a perfect storm of both challenges and opportunities for online retailers.
To compete in today's shifting ecommerce landscape, retailers and wholesalers have to provide a powerful digital experience that operates seamlessly across an increasing number of channels. Above all, modern systems have to be agile to adapt quickly to all the changes. That's where headless comes into play.
6 Benefits of Headless for your Business
Headless commerce involves separating the customer-facing 'head' (your storefront) and the back-end commerce engine. The head and body are then connected by APIs to pass data back and forth. This differs from a traditional monolith architecture that ties both of these systems together.
Operating a headless system has a number of advantages for businesses. It can provide:
Seamless omnichannel experience
Today, customers shop on a number of different channels, and they expect you to meet them on the device or platform or marketplace of their choice. Businesses are also always creating new ways to sell from social commerce on Instagram or Facebook to voice commerce on devices like Amazon Alexa or Google Home. mMonolithic systems aren't set up to take advantage of multiple channels. Headless lets retail and wholesale businesses deliver front-end changes quickly and easily and experiment with APIs to see what works best for the customer journey. By leveraging different front-end solutions, brands can deliver content and payment options across different channels — and be ready for those that haven't even been invented yet.
Scalability
In addition to being ready to adopt new channels efficiently, headless also enables businesses to scale the frontend independently of the back-end systems. This is helpful if you're rapidly growing or expanding or when you just need a temporary boost due to the holiday season or a planned product launch.
Innovation
With rising competition in ecommerce, staying ahead is important. And it can be hard to predict what the next big change will be. To account for the unknown unknowns, you need a system that allows for experimentation. It's a lot easier to innovate when you're working with a separate back-end and front-end system because you can make changes to one without affecting the other. You can play around with new APIs to experiment, iterate, succeed or fail and try again at much faster speeds.
Faster time to market
Monolithic platforms can be slow moving. When all your systems are intertwined, you need to get everything set up before getting to market. In addition to being able to make quicker changes with a headless system, you can also launch faster. This is because your entire system doesn't have to be ready. You can start with the store you need now and then add functionality with additional APIs and solutions as you grow.
Long-term cost savings
One of the downsides of headless is often cited as the development lift in getting everything set up. After all, you're combining multiple systems and employing or even building APIs to connect them. However, one you're set up, a headless system can actually be less of a burden on development teams. Monolithic architectures often require expensive hacks to make changes as the business needs change. Since with a headless architecture you can easily swap out frontends, you don't have to deal with as many issues with sunk costs if you realize you need to make a pivot.
Allows teams to work independently
Headless has advantages for both your development teams and your marketing teams. On the frontend, your marketing teams can make customer-delighting changes quickly and experiment more readily, without having to get developer support or worry about causing damage to anything on the backend. On the developer side, your teams can spend less time assisting with marketing changes and more on back-end innovations and efficiency.
Businesses Employing Headless
Here are a few businesses who have started employing a headless architecture and why they made the switch.
This beloved Chicago popcorn brand needed a headless setup to provide a superior customer experience and effectively scale their international ecommerce expansion. They worked with Codal to implement a headless build with Contentful as the CMS on the frontend.
This, coupled with BigCommerce's extensive native functionality and flexibility, helped Garrett to add a number of cool features including: Launching a custom inventory application with real-time inventory checks across the site to avoid overselling, implementing a custom "build your tin" feature with intelligent logic to allow customers to create their own unique recipe combinations in multiple sizes with optional add-ons, effectively capturing payments using BigCommerce's beta payments API and launching promotions with the beta promotions API.
This Australian-based seller of designer pots and planters has both a retail and wholesale business. Balcony Garden was previously using WooCommerce and discovered limitations. They wanted better speed and security. They also wanted it to be less cumbersome to make marketing changes. Additionally, the wholesale side of the business involved a lot of custom coding to achieve the desired B2B functionality.
They chose to do a headless build with BigCommerce because they could get the security and reliability of a SaaS platform with the necessary B2B functionality out of the box. Using a Storyblok headless CMS and Vue.js on the frontend, they got the complete flexibility they were looking for. The site can continue to grow with them and push the design and features of their site further.
Wrapping Up
Monolithic architectures were the go-to choice — and even the only option — for decades. However, changing times call for changing technologies. Today's ecommerce market and today's ecommerce customers demand solutions that can be launched and adapted quickly and that can serve customers wherever they shop.
By decoupling and compartmentalizing technologies, a business can get a competitive edge by swapping out solutions and pivoting when needed. In an ecommerce era that is requiring more flexibility, not less, microservices and headless are the way forward.
Want to learn more about headless commerce and how it can benefit your business — and your specific role in it? Check out our Headless Commerce for the C-Suite ebook.