Webinar recap: The Case for Cloud-native SaaS
Software upgrades are a pain. For many companies, the perceived value of the latest version isn't high enough to justify the time and effort to make the switch. "Many organizations on on-premise vendors are years behind in versions." explains Sonja Kotrotsos, Global Head of Product Marketing at Contentstack and VP of the MACH Alliance, "That means they're years behind of the full potential of what they could reach in their use cases of digital experience."

In our latest webinar, our panel of SaaS experts discussed why companies are turning to Cloud-native technologies to escape the software upgrade treadmill and the bottleneck that comes with it.
Check out the replay for the full conversation, or keep scrolling for a quick recap on why SaaS is now in the spotlight, what it adds to enterprise strategy, and how to identify truly Cloud-native software in an increasing "Cloudwashed" market.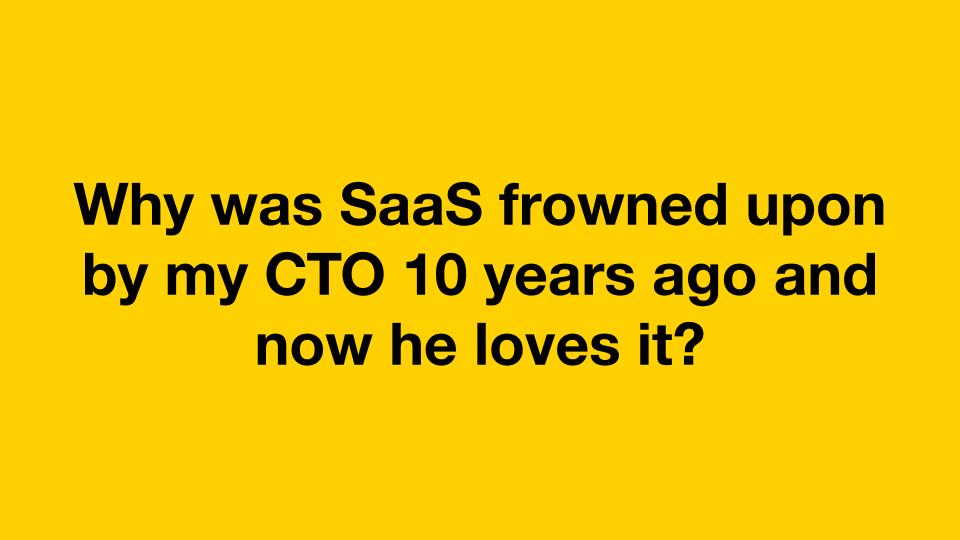 Simply put, SaaS has done a lot of growing up this decade.

"I would have been on the other side back then." says Mehdi Fassaie, CTO and Founder of Fluent Commerce. For a CTO or CIO your main objective is to provide reliability to the organization, and early SaaS options did not yet have the credentials to be enterprise-ready. "What's happened since then is not only the SaaS applications, but SaaS and Cloud platforms, have significantly matured to a point that you can depend on the reliability, security, data protection, and all the important things from an enterprise perspective."
As the market matures, more companies are choosing SaaS strategically and Forrester predicts a spike in Cloud-native technologies in 2021. "SaaS has become an easy decision," says Fassaie, "but it has been an evolution over the last 10 years."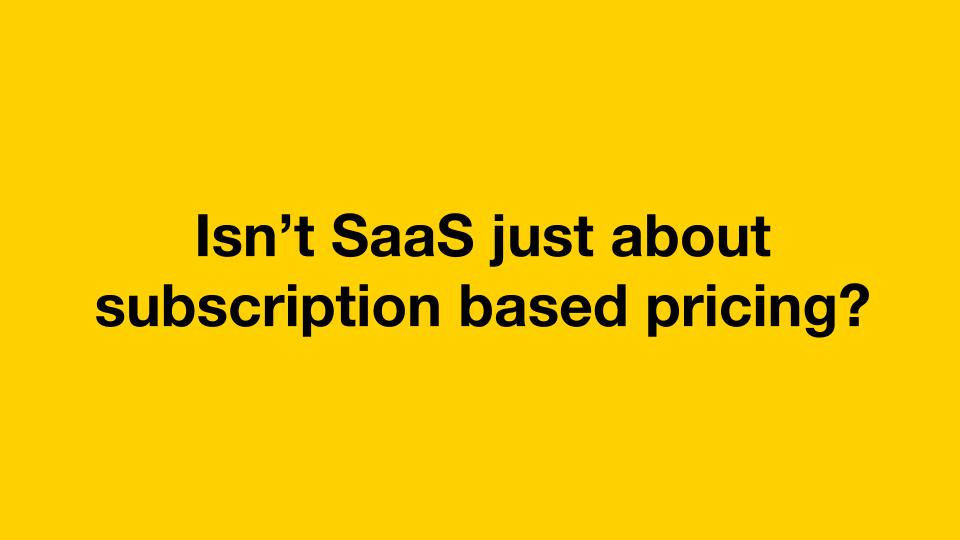 The definition of SaaS can be murky, and if you go by the "Microsoft Office model" where you pay a subscription fee for a static tool then SaaS can feel like nothing more than a change in pricing structure.

"We mean something different when we talk about SaaS." explains Markus Tillmann, Executive Vice President of Mindcurv, "When we talk about Cloud-native SaaS we are talking about enterprise grade applications that can cater to and carry businesses processes and in the end help generate revenue. We're not talking about delivery of a software package in a different format."
Modern SaaS tools are more than a subscription model, they simplify delivery to give companies access to a scaling supply of resources and ensures continuous delivery of the latest features and innovations of the vendor.
"If a business comes to me and says they have a very specific need, my response is always 'Yes, you do.'" says Steve Davis, CTO of Four51. He believes a composable SaaS architecture is the best choice for many of his commerce customers. "We are trying to sell you a client-owned system. We want you to be able to own this and run it and adapt it to what your business does. Rather than tell you to adapt your business processes to the software."

The adaptability of these systems can be attributed to the rise of MACH principles (Microservices, API-first, Cloud-native, Headless) in software design which bring more flexibility to the enterprise tech stack. "It's a composable system," explains Davis, "which creates opportunities for you to plug and play solutions looking at what meets your needs today and also what meets the needs of a migration. So you don't have to take your entire stack and move it all at once in one long project."
Our panelists agreed that the best way to uncover the cloud-credentials of a solution is to ask open-ended questions. As you get into discussion around versioning, scaling, and availability you'll quickly start to see patterns around cloud maturity.

"What we've seen work well is simply asking to have a look at the documentation of the APIs that vendors claim to have. " says Tillmann, "You'll see some people raising their eyebrows because their documentation is spread all over the place. They say they are API-first but in fact have very few APIs that they offer as API-first."
A highly recommended approach is to use an advanced use case as a proof of concept. This allows you to evaluate how the software supports your actual business processes and helps you see under the hood of the solution.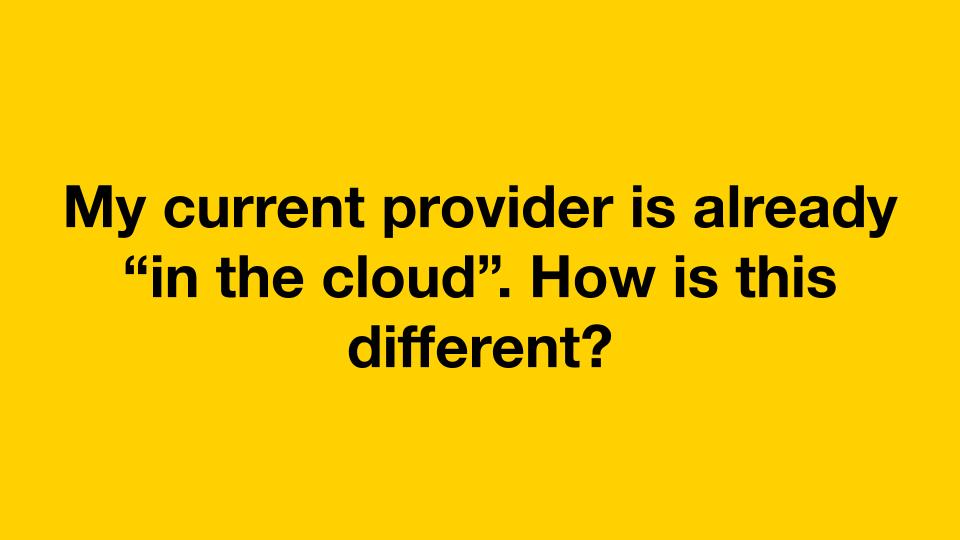 It's cool to be Cloud. It's also pretty much expected from today's enterprise customer, which is why there has been a massive amount of "Cloudwashing" in the software industry. Vendors will take legacy solutions, stick it in the cloud, and sell it as a "in the cloud" solution that offers none of the benefits of Cloud-native tools.

"What they've effectively done is taken a more traditional approach to software, probably a more on-premise software, and they've taken it and put it in the cloud." explains Davis,"Effectively what they're providing is a managed service where they've taken your traditional sysadmins, running all the hardware pieces, and have made that into a service. It is in the cloud, but it's still traditional, on-premise software that you're getting."
It's not only the modern approach to deployment that these "Cloudwashed" solutions miss, but the modern approach to feature access. "Some of these 'in the cloud' vendors still charge premiums for their software upgrades." explains Kotrotsos, "I've seen companies who have invested for five or six years, paying a subscription and continuously investing in that vendor, and are then asked to pay a premium for the new functionality that was built with that investment. That just seems wrong in 2020."
Moving away from a legacy technology, that has built up years worth of dependencies across the business, is going to take effort. Ideally, once a company has put in that effort to move from on-premise to cloud it should be smooth sailing from there.

However, as more traditional software vendors offer "in the cloud" models, enterprises are often faced with an extra migration. First, they go from the on-premise version to the managed service version, or "old SaaS", and then another full migration when (or if) the vendor releases a truly API-first model, or "new SaaS". Too many enterprise companies get stuck with a rising TCO as they wait for their legacy vendors to catch up to modern ambitions.
Luckily, the modularity of new SaaS gives these companies a way to unlock themselves from legacy solutions one step at a time. "What Cloud-native does offer you is that chance to pick apart the pieces that you need to bring forward." says Davis, "Maybe business strategy requires for some capabilities that don't need to migrate the entire product all at once. You can take an intelligent approach to it."
To hear the full conversation about the enterprise SaaS evolution, check out the webinar replay where our guests share insights on identifying, evaluating, and adopting Cloud-native solutions.