The Benefits of Headless Promotion Management Software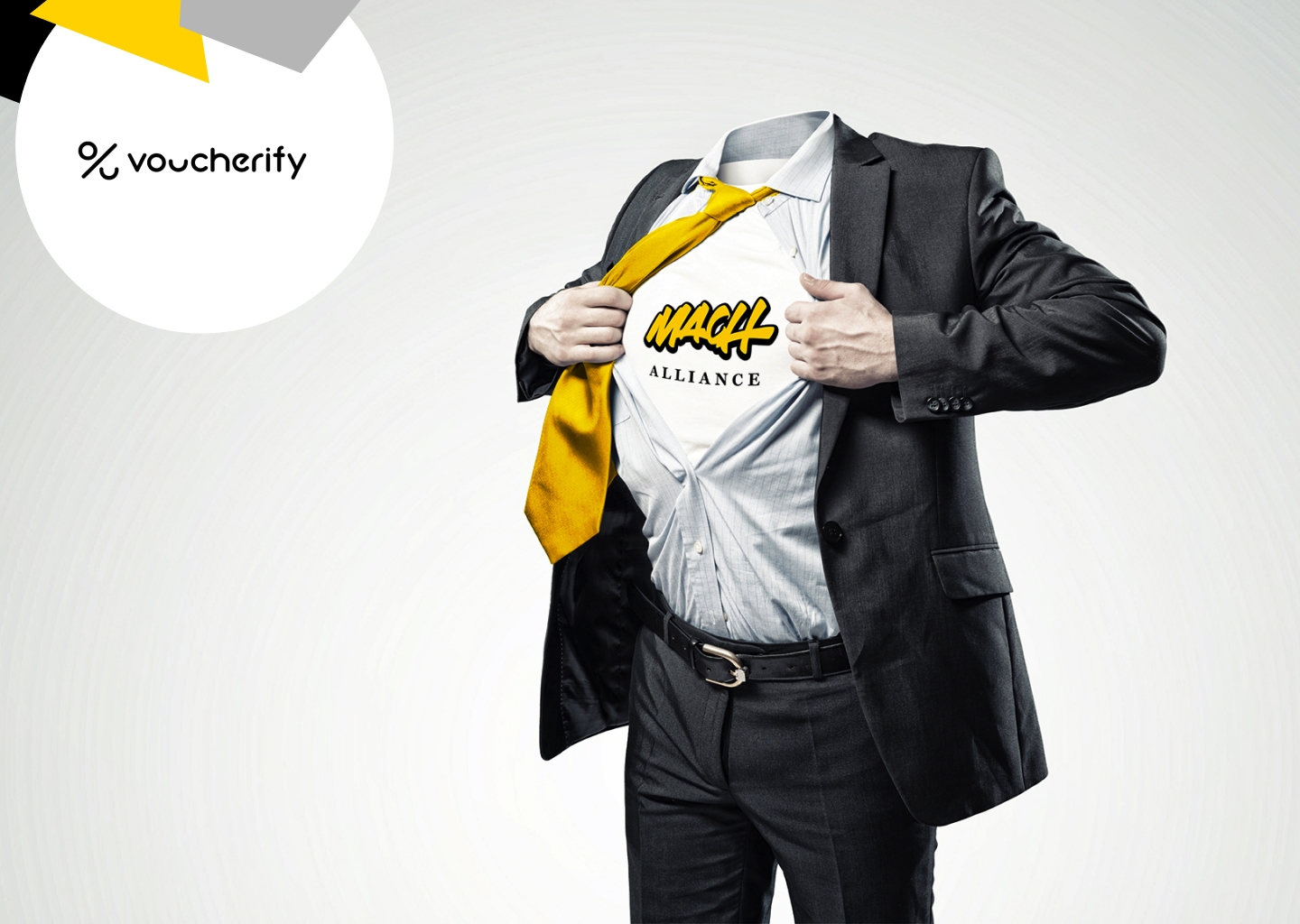 The H in MACH Alliance stands for the Headless approach. Headless in software programming means that the frontend presentation is decoupled from the backend logic, separated from channels and programming language, while being framework agnostic.
See how Dirk Hoerig from commercetools explains what Headless is and what it means for MACH in less than 1 minute:
The benefits of headless promotion management software
There are various benefits of headless promotion management software over traditional, monolith solutions when it comes to digital experience management. Using headless technology to power promotions, loyalty and referral programs can help retailers to get their promotional strategy up to speed – gain faster time-to-market, adapt the digital experiences quicker and react swiftly to market changes. Moreover, headless approach helps to prepare the promotions for what the future brings, giving omnichannel compatibility and allowing for 1:1 personalization to harness the customer data. Let's dive into the specific benefits offered by the headless promotion software:
Omnichannel compatibility
The ability to decouple the frontend from the backend gives much more flexibility when it comes to frontend platform choice, allowing for truly customized and omnichannel distribution. It allows for unparalleled creative freedom in creating the frontend, allowing for full content customization, branding and personalization. Thanks to API, headless promotion management software can be connected to any current or future distribution channel.
The case study from Pomelo Fashion is a perfect example of how retailers can benefit from a headless promotion engine that offers omnichannel compatibility. Pomelo is an online fast fashion retailer and marketplace for greater Asia. They are constantly launching new promotional campaigns and communication channels. They needed a promotion engine that would help them adapt their promotional strategies and scale quickly and effortlessly.
They chose Voucherify, a headless promotion management software as their provider. With Voucherify's API, Anthony and his team were able to create a unified incentive experience for every customer touchpoint, including mobile and web apps.
"Voucherify enables our team to launch promotion campaigns with every current or future channel with speed and confidence." Anthony Lim, Engagement Marketing Manager at Pomelo
You can read the full case study here.
Personalizing digital experiences
Headless promotion management systems are based on APIs. They can be easily connected with various data sources that provide necessary information for personalizing the digital experiences. They can be also connected with content personalization platforms to display targeted promotions in a custom context via various channels. Any new data sources or personalization platforms can be easily integrated, helping to adapt your digital experiences to the changing technology or customer requirements.
Faster time-to-market
Thanks to out-of-the-box features of headless promotion platforms, enterprises can ship their loyalty programs in minutes, once the initial integration is completed. This can help to respond faster to market opportunities and expand your operations by entering new markets or targeting new customer segments.
An example of a retailer who benefitted from a faster time-to-market thanks to a headless promotion engine is OVO Energy, an energy retailer. OVO Energy has expanded its operations to Spain in 2020 and needed promotion management software to run a referral program. Their local development team was small and fully occupied with developing features related to their core business. They wanted an out-of-the-box, flexible, and affordable tool that could be used by the marketing team without bothering developers. They wanted ready software, produced and maintained by a company specializing in promotion management, not having to spend their time designing, producing, and maintaining any code. The integration with Voucherify was really fast. The whole process, from a developer's perspective, took one sprint and the whole time-to-market from subscription creation to successful implementation of the referral program lasted two months.
You can read the full case study here.
Adapting digital experiences quickly
Thanks to having a headless promotion engine in place, you gain a lot of agility. For example, if you need to change the promotion rules quickly, you do not need to code a new set of conditions and solve the edge cases yourself. You can do it with a couple of clicks on a dashboard or a couple of lines of requests to the API and the API will change the backend logic for you. You do not need to wait for the change to happen after another release round, you will see the changes immediately on the back- and frontend where the API is connected. The change will be effective on all platforms, mobile, desktop, social media – everywhere, where you use the API. No need to change the rules separately for each device or version. You can adapt your frontend visuals and copy directly on your frontend platforms, for example, social media or CMS, which does not require waiting for a release. Such agility can be your competitive advantage in the market.
Bellroy is a great example of how retailers can benefit from the flexibility a headless promotion engine brings. Bellroy is an Australian retailer selling wallets, bags, phone cases & more made from premium, environmentally certified leather and sustainably produced woven fabrics. Their website is built on a custom CMS, therefore the company was looking for an out-of-the-box promotional software to connect with their API. Flexibility and the variety of promotional tools were important for choosing the right software. Bellroy has decided for Voucherify as their promotion engine to launch a variety of campaigns like cart promotions, discount coupons and gift cards, launching their promotions omnichannel and taking advantage of the flexibility headless platform brings.
"We treat promotions very carefully and were looking for a product that offered flexibility, a suite of promotional tools and brand protection, and we found Voucherify to be a great fit." Kate Watson, Digital Sales Manager at Bellroy
You can read the full case study here.
Another example of a retailer that has used headless promotion software to launch their promotions faster is Vodafone. Vodafone Group plc. is a British multinational telecommunications company, operating in Asia, Africa, Europe, and Oceania. Vodafone was looking for a quick-to-integrate promotion platform that would allow the Vodafone Portugal team to meet tight deadlines for launching their next product bundling promotion. They have chosen Voucherify as their provider and successfully reduced time to market by integrating Voucherify in less than two months, for B2C and B2B eshop, launching their first campaign and distributing successfully thousands of discount codes.
You can read the full case study here.
Optimized backend with less payload
Headless promotion engines use open APIs with specific endpoints that are optimized for each specific use-case or business objective. An endpoint in an API is simply the end of a communications channel provided by the API, that allows a specific function to be completed. Decoupling the frontend from the backend, via an open API, greatly enhances the extensibility to work with any other software apps in the technical architecture. The packets of information shared via API tend to be quite small, so congestion in the network is minimized as compared to monolithic solutions. Smaller data transmission payloads improve performance.
Having less payload and faster data processing helps with serving 1:1 personalized content. This way, you can serve the content dynamically without worrying about the website speed or server overload.
Summary
Headless promotion software provides great flexibility when it comes to the frontend platform choice and other software integrations (for example data sources integrations). It helps enterprises to speed up their time-to-market and adapt their digital experiences quickly. It provides a lower payload, allowing for 1:1 content personalization. Thanks to API, they can be easily connected to any current or future distribution channel, personalization or DXP platform.
This post was written by Voucherify. Voucherify is an API-first, Headless Promotion
Engine powering loyalty and referral programs, discount coupons, in-cart promotions, gift cards, and giveaways. Voucherify is a certified MACH Alliance member.