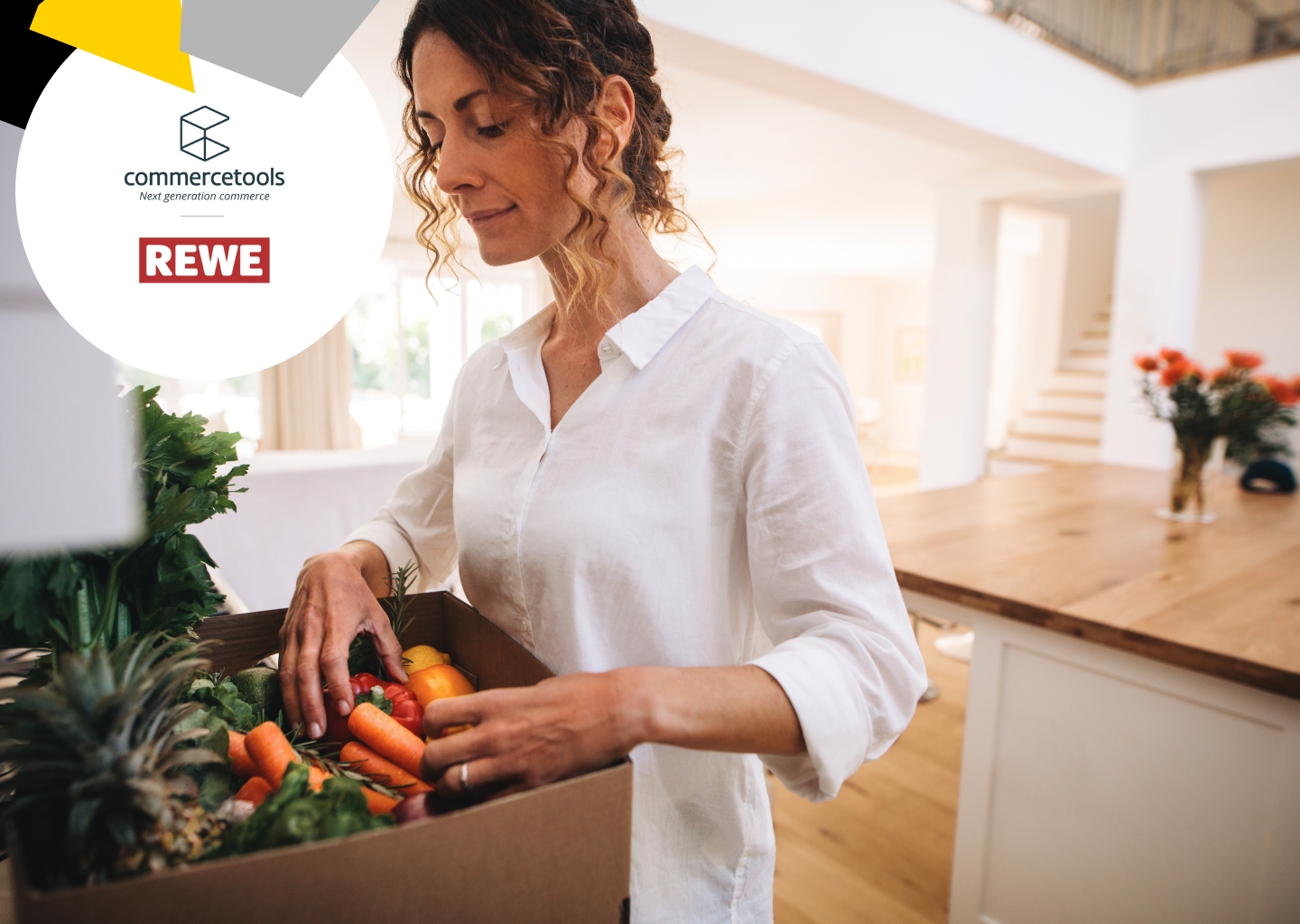 REWE Scales the Online Grocery Marketplace with a Flexible MACH Architecture

According to a McKinsey & Company survey of European consumers, about 15% of people tried out a new website for grocery shopping during the pandemic and, of that group, over half intend to keep using their newfound site for some part of their grocery needs.
The rapid demand of online ordering and convenient, safe delivery options has exposed the weak links in many retailers' eCommerce systems that resulted in late deliveries, mixed up orders, and upset customers. Meanwhile, grocery retailers already on the path to modern commerce were able to quickly pivot to meet the demands of shoppers stuck at home.
REWE, a leading German supermarket chain, is invested in the digital future of retail and is a pioneer of applying MACH (microservice, API-first, Cloud-native, Headless) architectures to the food sector. In 2020, REWE was able to build on their MACH foundation to double the amount of "click-and-collect" services in just a few weeks, launch a cross-industry fulfillment platform, and ultimately provide convenient access to food across Germany at a very critical time.
"We now reach around 90% of the population with our delivery and pick-up services, and the package service additionally covers the entire country."
Dr. Robert Zores, CTO at REWE digital
Complex Fulfillment
While nearly every industry had to quickly ramp up digital in 2020, few sectors are more complex to scale than grocery. Fresh strawberries, frozen pizza, and pasteurized milk all have different packaging processes and cold chain regulations that are combined with high consumer demands around delivery time, quality, and substitutions.
"Offering groceries online, commissioning them, delivering them or making them available for pick-up – all of course within the time frames requested by customers and with the highest level of service – that is a fine art," says Björn Dröschel, Managing Director Product & Technology fulfillmenttools.
Having an API-first architecture allows your different systems to communicate by sharing data in a standard format. This lets you easily pull data from your existing IT systems, quickly integrate new proprietary tools, or build your own in-house capabilities for unique needs. Through use of microservices, teams can add individual capabilities as they are needed and evolve their fulfillment process at the pace that matches their customers' demands.
Going into 2020, REWE had a modular microservices architecture in place with MACH-certified commercetools as their foundational commerce platform. As the number of shoppers purchasing groceries online quickly ramped up, REW digital developed fulfillmenttools, a cloud-based platform designed with an API-first approach that streamlines fulfillment from the moment the order is placed until it reaches the customer.
Marketplace Orchestration
Key to REWE's business is a growing marketplace of food, kitchen, and homeware partners with products
available for REWE customers to order online, have delivered, or pick-up from a collection point
. Starting with 5 partners in 2018, the supermarket's website now offers over 150,000 products from more than 65 partners.
"Our biggest challenge is the technical onboarding. Smaller retailers are often not technically capable of transmitting their product data in a well-structured format," says Bassel Soukar, Head of Marketplace at REWE digital, about the complexities of quickly growing a marketplace. "It is not only the quality of the partners that matters, but also their technical competence in handling modern tools. To overcome this challenge, we provide support through our own technical onboarding team."
The API-first approach of MACH can help standardize the data of multiple partners, bringing products smoothly into the system. Additionally, native Cloud software offers multi-client capability which allows each marketplace partner to be activated individually, making data management easier.
"Operating a 'real' marketplace is extremely complex. It starts with the connection of the marketplace participants (different product data and structures, different qualities, consolidation of the same items, automation, process management, etc.) and ends with the handling of mixed shopping baskets from different suppliers. These multi-layered processes have to function smoothly for the customer without any loss of quality or service."
Dirk Hoerig, Founder and CEO at commercetools
A MACH approach to marketplace architecture not only helps scale the amount of products offered, it also creates a foundation for more personalized shopping. For instance, a customer might only want to see items available in their local shop, to prioritize organic products, or to avoid ingredients they are allergic to. Structuring marketplace data as neutral APIs from the start will allow retailers to quickly scale up different experience capabilities in the future.
Scale Quickly
50% and 53% of European and American Grocery store CEOs, respectively, say that scaling their online grocery business is a top 3 priority over the next year. For many in the food sector, the past year showed that legacy tools - and outdated ways of working - can't give them the speed they need.
"Yesterday's digital strategies, such as multiyear targets and corresponding road maps, no longer suffice given the fast rate of change in grocery retail. Pure online players and innovative incumbents are constantly on the move; by the time they complete their two year road map, the world looks different again."
McKinsey & Company, The State of Grocery Retail 2021, Europe
A MACH approach allows teams to spin up new capabilities or integration in lightweight proof-of-concept projects without risking current functionality, using microservices that are developed and scaled independently.
"When someone has an idea for a new feature, we implement it quickly so that we can test the new feature using measurable data (KPIs or key performance indicators). Only when the KPIs show positive results, for example when the newly implemented feature generates more revenue, will it then be scaled up," explains David Yasli, CPO at REWE digital.
Using this flexible approach, REWE was able to quickly scale fulfillment when Germany entered lockdown in the spring of 2020.
"Within a few weeks, we were able to almost double the number of REWE stores with a pick-up service to over 1,000. Where others had to struggle with a lot of manpower and additional infrastructure to set up Click & Collect, we were able to scale our services, add markets organizationally and integrate them into the web and in the app," says Dr. Robert Zores. "It was certainly a feat of strength for the pick-up service team, which wouldn't have been possible without our technological background."


REWE's Flexible Retail Solutions Go Beyond Grocery
REWE has long been a leader in digital retail. They were an early investor in commercetools, the headless commerce platform now used by global enterprises to drive everything from high-fashion social selling to in-car commerce.
"The 'online groceries' area, with its complex requirements when it comes to product catalogs, data volume, scaling, order volume, and cross-channel and omnichannel models, etc. covers almost all possible challenges – true to the motto: If you can do food, you can too (almost) everything else," says commercetools' founder and CEO, Dirk Hoerig.
The REWE digital team believes that fulfillment is another area where retailers of all industries can benefit from the lessons learned tackling the complexities of the food sector. In September 2020, they launched their in-house development platform, fulfillmenttools, to help retailers of all industries on their way to digitalization.
"Both the platform itself and our team bring a lot of retail and tech expertise to the table, which also provides other industries, such as fashion, consumer electronics or leisure with a valuable competitive advantage," says fulfillmenttools' Managing Director Product & Technology, Björn Dröschel. "We have built our solution so flexibly that it can be applied to all types of pick-up and delivery models. This makes it possible to equip even the most complex omnichannel offers from retailers with the right processes, so that they can offer their customers modern services, such as Click & Collect, based on their existing IT infrastructure."
How MACH Helps Grocery Retailers
Modern MACH architectures give teams the power to make unique, innovative digital commerce experiences and bring new ideas to market in hours or days, rather than weeks or months.
Microservices
Modular, independent services can be adapted to specific customer needs and implemented step-by-step.
API-first
All functionality is exposed through APIs for rapid integration of existing and future IT systems.
Cloud-native SaaS
Ensure scalability for unplanned fluctuations and use multi-client capability to manage marketplace partners.
Headless
Combine powerful backend tools into a seamless frontend experience for shoppers across every channel.