Christian Mattar – commercetools Competency Lead at Valtech Germany
Performance benefits of MACH – business and technical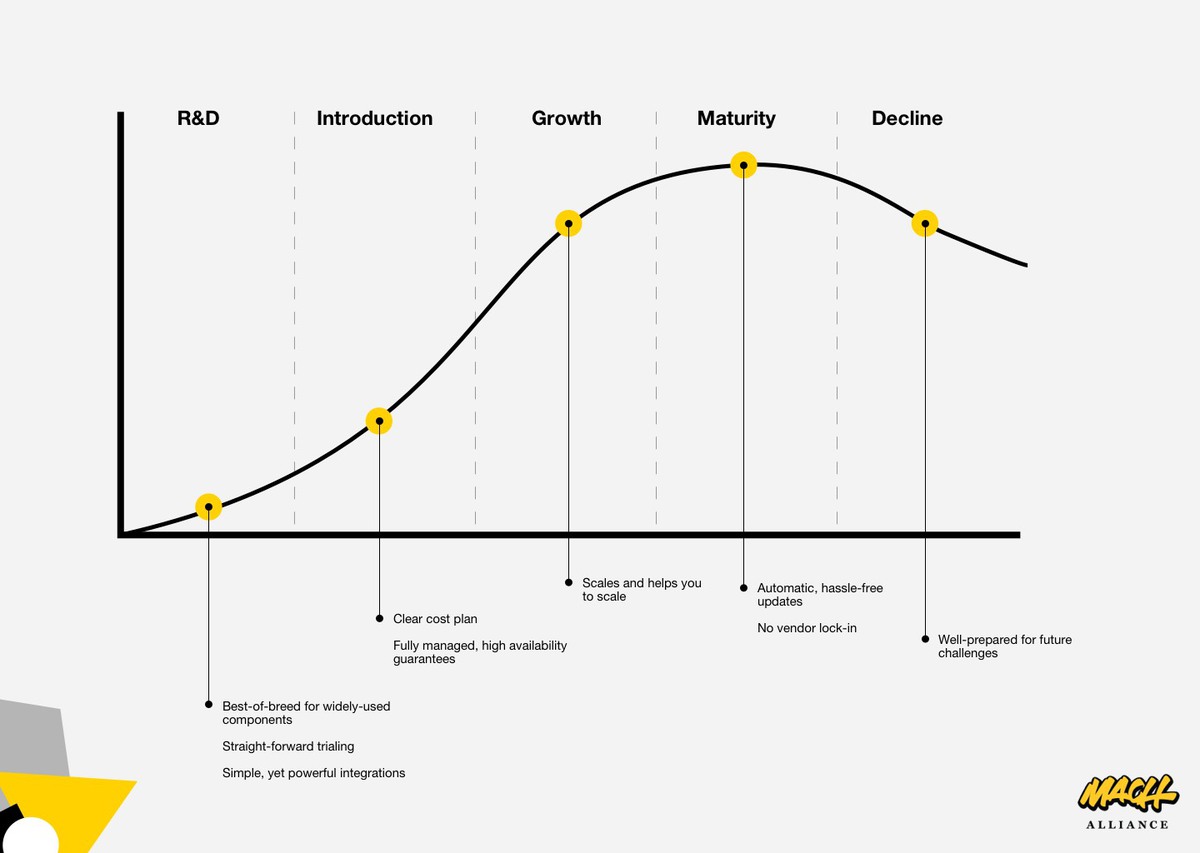 Boosting your development process with MACH
Introduction
Bringing a new app or website to the market is no simple feat. Even if you have the right vision, the feature space is not quite explored yet, the user experience is not yet nailed down and the competition is always watching. So how can the MACH approach help you along the way? Let's walk through the typical lifecycle of a product and see at each step, how MACH is able to give your development process a boost and lets you firmly focus on your USPs!
Laying the groundworks: R&D phase
You have a product vision, you have a team, you have a budget... Now it's about setting up the right foundation to quickly move to market before a competitor steals your thunder. Luckily, there's a range of MACH solutions available for the many components that every application requires. You need a CMS? You need a search solution? Pick the ones that most closely fulfill your immediate and expected needs and run with it! There is no need to put development effort into standard problems that are already solved. Many MACH solutions provide instantly accessible trial accounts to support you in making the right choice for your particular setup and requirements. Fast iterations to trial the standout features of your product idea are essential - each MACH offering has a clear domain and will not impose itself on your product outside of that. It's the opposite, in fact: clear, yet powerful integration patterns are the norm so that you or your data are not locked into one provider. Once you have decided on the components you want to use, you can be sure that for each one of them, you have selected the best-of-breed for your use case.
Lift-Off: Introduction phase
Launch day is finally upon you! Your marketing team has already managed to create some excitement and anticipation among your target audience... Still, there is uncertainty if the market-at-large will follow your new app with the high level of interest that you are hoping for - such things are notoriously hard to predict.
Luckily, you are as prepared as you can be. Even though you've only just released the first version of your product, all the underlying MACH components are already battle-tested and ready. Even if your solution should not receive the attention and success that you know it deserves - you can still cut your losses and regroup later for a relaunch, as the risk that the initial investment was well-calculated thanks to the clear cost structure of the MACH solutions you have used.
Being prepared for success: Growth phase
The first months after your successful go-live are behind you, and the web is abuzz regarding your cool, new application. Every day, thousands of new users visit and sign-up to see what the fuss is all about. Many of us have first-hand experience of what happens if increasing numbers of users are hitting an unprepared system: endless loading spinners, dreaded "We
are sorry" pages, disappointed users... Not for you, though: All the MACH pieces that you have integrated to run the basics of your application have scalability built-in - the underlying cloud infrastructure and best practices make sure of that. And even better: all the standard development patterns used and encouraged by MACH software will, in turn, help you to build your own components in a similarly scalable fashion.
Ready for challengers: Maturity phase
You are now an established player in the market - you have some time to take a breather from the exciting time of bringing a new product to customers. Now is a good opportunity to streamline your system and reduce the total cost of ownership. Looking at your software stack: have the vendors, that you chose to integrate with, added interesting new features to their products that would fit well into your user experience? Since vendors update and the introduction of functionalities will occur without your development team being required to block valuable time for performing costly update processes, this might have happened without you even noticing! Perhaps there are now other vendors and offerings available that could solve your problems even more efficiently. Maybe now you employ a team large enough and with enough experience that replacing some of the components provided by MACH solutions with in-house solutions could be an interesting business case. Thanks to clearly separated APIs and focus on specific domains, each building block of your system is cleanly isolated and separated from each other - no need to disturb more parts of your application than needed when reworking or replacing pieces that don't quite fit your vision of the future anymore.
Riding into the sunset: Decline phase
It's been a great ride, but all good things must come to an end. After many years of popularity, the user base of your app slowly declines, and interest moves onto the next big thing. That's not necessarily a bad thing though - if the next big thing is done by you! MACH principles are only going to become more relevant in the future, and thanks to the experience you've built, you have a head start to tackle new innovations up-front.