Our 2022 Research Shows MACH Adoption Is High On The Agenda for Tech Leaders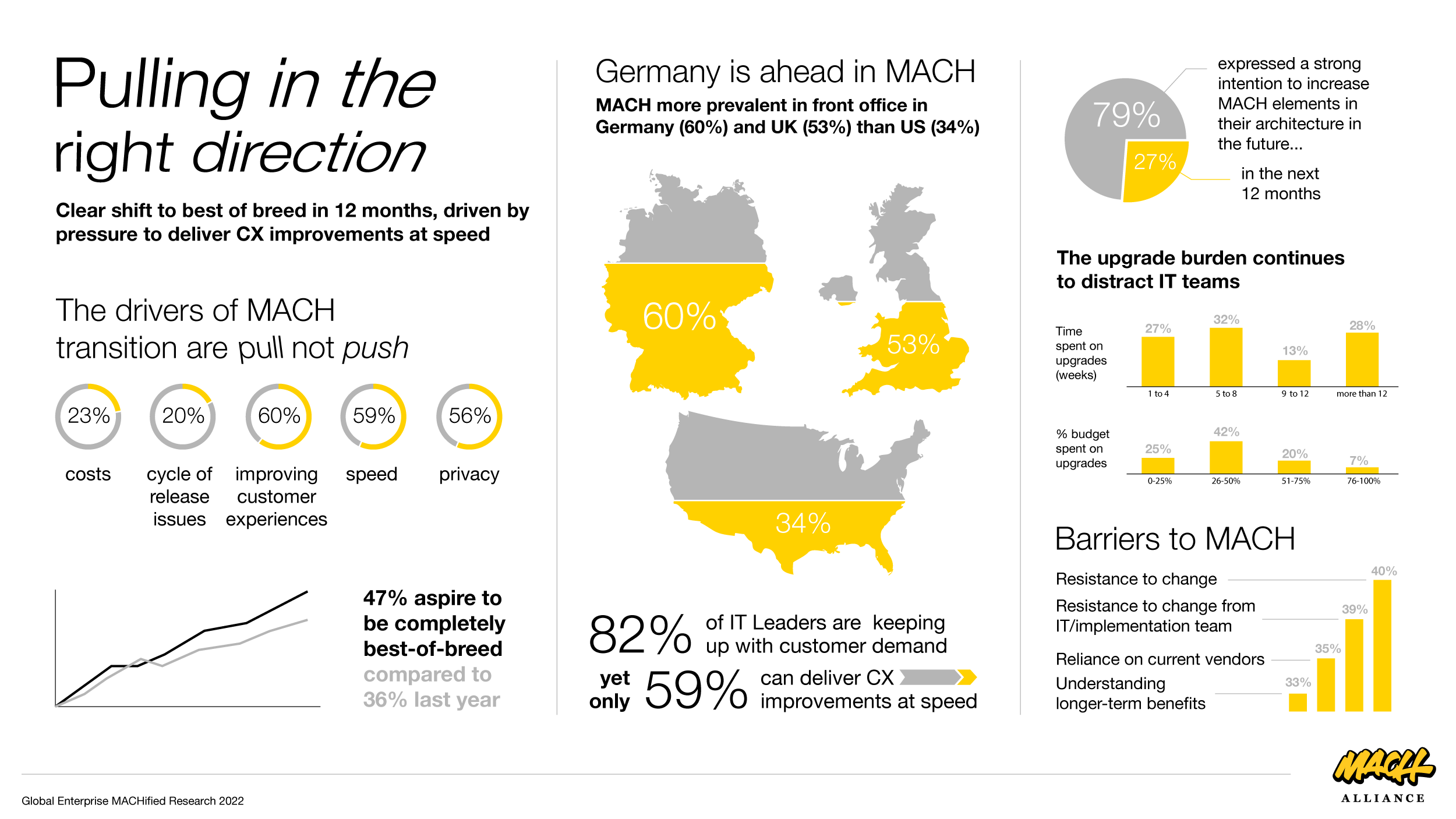 Our 2022 Research Shows MACH Adoption Is High On The Agenda for Tech Leaders

The 'Enterprise MACHified' 2022 study, conducted by Mel Research and commissioned by the MACH Alliance, polled senior level technology decision makers (CIOs/CTOs, VP/SVP, Senior Manager) in the U.S., U.K. and Germany.
The study is designed to show the state of MACH adoption in these major geographies. It's clear from the findings this year that intentions to move to MACH architectures remain and progress has been made over the past year with a 19% increase in companies that have moved away from a monolithic stack to best-of-breed. Tech leaders see MACH technologies as the future of architecture with 79% planning to increase investment over the next 12 months and beyond.

While intentions are high and 82% of IT leaders say infrastructure is keeping up with customer demands, less than half are satisfied with their ability to deliver customer experience (CX) improvements at speed. This statistic is perhaps the most concerning. But this is where MACH comes into its own, so we would expect improvements over the next 12 months based on MACH intentions cited. It's also a big reason why the drivers of MACH transition are pull not push. While cycle of release issues and on-premises costs remain a huge burden for organizations, they rank lowest among the drivers. Instead, speed, privacy and ever improving customer experience needs come out top.

Overall the findings are encouraging and show that we are moving in the right direction. As an Alliance that advocates for the power of MACH architectures, we are committed to promoting the long-term benefits and ROI that a move to MACH can deliver. In this blog post, Adam Sturrock and Matt Bradbeer break down every component to consider when calculating the Total Cost of Ownership and ROI of a MACH-based architecture.

Take a look at the key findings and full survey report. How does your organization compare?
Download Report
Download Infographic
'Enterprise MACHified 2022' includes responses from 230 senior technology decision makers (CIO/CTOs, VP/SVP, Senior Managers) across the UK, Germany and US in organizations with at least 5,000 employees and revenue of at least $500m annually.