MACH-Mash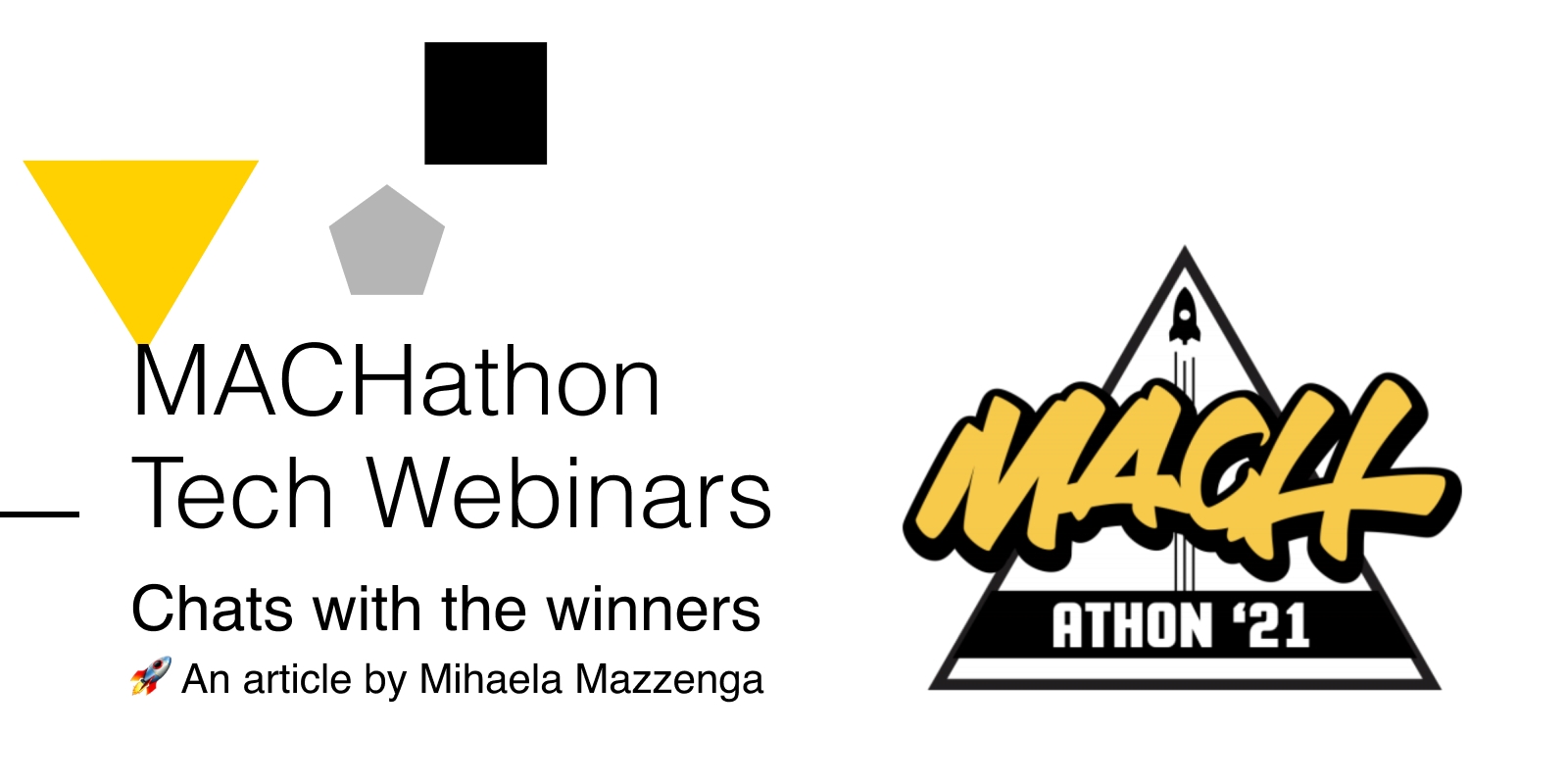 How do we get unstuck during a global pandemic? How do we improve experiences for many individuals with health challenges and disabilities? Our goal with the MACHathon was to provide an opportunity to innovate on these challenges and deliver the most ground-breaking, unthinkable or extravagant ideas - quickly turning them into reality with MACH technology and composable architectures.

Mission. Accomplished.
The need for innovation will always be driven by our changing environments. More than ever, the enablement of innovation will be driven by technology. The MACHathon entries and winners showcased this relationship perfectly. Our winners delivered solutions aimed at helping underserved communities through foodbank enablement and personal skill building and job placement; solutions that improved collaboration in virtual classrooms; solutions that made shopping at a distance easier to consume; and solutions that provided an intimate and local social experience. They proved to be socially and technically relevant, viable, mature, usable, and well integrated. When weighed against the fact that they also only had one week to deliver, they were all magnificent applications of MACH to real world problems.
During the MACHathon Tech Webinars, I had the pleasure of spending some quality time with our winners, discussing the details of their implementations and experiences delivering these solutions with MACH technology and composable architectures. While their thoughtful and well-crafted solutions are proof of the power of MACH, their underlying experiences are evident of the fundamental shift this architecture brings to the table. Are you ready for composition and reuse at scale? I certainly am - and if you're not ready then don't blink too fast - because the 2021 MACHathon entries showcase the quality that can be delivered when stacks rule over suites, and when business drives technology.
Delivery at MACH Speed
During our discussions, it was too easy to forget that these solutions were composed in just one week. Deon Smith and the LAB Group team, representing Food Bank Connector and aiming for digital transformation in the non-profit space, shared with us that the orchestration of their solution was relatively simple to achieve. Even when combined with a global distributed team, the project components fell into place with simple collaboration efforts.
Beyond all other pillars of success, the speed of delivery was the common thread among all MACHathon entries. Even with a relatively young team, Sunjay Singh and the Accenture team were able to deliver the most integrated and popular solution - winning two MACHaton awards. The AtmaNirbhar solution activated advanced audio and visual components, allowing for illiterate populations to operate application features through natural forms of communication - speech and visual media.
Simply put, composable architectures allowed for a focus on the business needs versus the technical lifting required for implementation. It's important to call out what wasn't discussed; not once did infrastructure surface as a consideration for these projects. This is a stark contrast to the monolithic suite, or non cloud-native based solutions. Not only does an API-driven solution allow for a common communication standard for engineers, it also removes the need for heavy infrastructure considerations. The plug-and-play software enterprise has arrived - we can all start delivery of critical business functions as fast as we can connect to an API. During a global pandemic, access to food and individual skill development for underserved populations became an even more critical need practically overnight. In a comparable timeframe - overnight - solutions for food bank enablement and personal skill development were born with MACH technologies.
APIs for All
What part of M-A-C-H is the most important? From a composable architecture perspective and in my personal opinion, it's the A; the API layer is the glue that ties microservices, cloud-native SaaS, and headless together. Rainer Friesen and the Valtech team delivered the high quality TeacherNator solution easily with MACH technologies. We've crossed the barrier where composition no longer requires including an external software module or requires compilation of external libraries. It has matured into a space where lightweight APIs rule. If your solutions aren't lightweight or aren't supported without more than simple authentication, expect progressive enterprise solutions to leave you behind. It was these simple orchestrations that allowed TeacherNator to offer open collaboration and mature personalization features for teachers and students - one of the most impacted social groups of this pandemic.
Documentation and Support
Lightweight functions require lightweight documentation - good thing, because we all know how much developers like writing documentation… can we get an API for that? When you have little time to design a solution, you have to weigh your understanding of the technology toolset at your fingertips. Reference architecture became a critical decision point for the i-Electra Shopping Site, Nivedita Dixit, and the Infosys team. While integrating solutions from 7 different MACH vendors, even skilled architects will require reference architecture and well written documentation in order to ensure proper architectural decisions. Another common theme with the MACHathon teams was the openness of the MACH vendor support teams to answer integration and utilization questions, even across competing timezones. The most important aspect of support is availability - via online documentation, forums, chat, and email - and the vendors critical to the success of i-Electra delivered on that availability.
Team Unification
The context of an application matters of course, but as I spoke to the individual teams it became apparent that the front-end may be the new back-end, and that the back-end has finally broken free of all ties outside of core business competencies. Randy Ainsworth and the SociaLocal team truly felt empowered to assemble their solution through what would traditionally be categorized as front-end technologies. The distributed nature of composable architecture is unifying teams, unifying engineering discussions, and re-focusing the "build" on core business needs. With the user experience front and center, MACH technologies allowed Randy to integrate the front-end beyond a skin-deep reach and deliver a visually impactful and informative solution with a local flair.
Olesia Voloshina and the EPAM team building the Shopping Helper Bot had a similar experience with synergies on their team. The team quickly worked together to build a true multi-generational solution to the virtual shift in pandemic shopping. MACH unified the team goals through ease of use and ease of implementation against short timelines. Afterall, team morale is critical in any project, and the faster technology enables you to implement a final solution, the better delivery becomes for the business. For Olesia and her team, another unifying factor was flexibility. MACH components have matured and available options are variable enough to allow for a one week implementation, or maybe even a one day implementation - with the ability to throttle the maturity of the solution through expansion of MACH integrations.
With so many MACH and composable tools available, the only question left to answer is what we will build next? What global issues will we tackle next? I say let's expand that to the universe... MACH on Mars!
Recordings
You can re-watch the MACHathon Tech Webinars below: