Blog Post
Introducing MACH — the microservices-enabled, API-first, cloud-native, headless technology of the future — and what businesses need to know to remain relevant.
Summary
MACH is an acronym for Microservices; API-first, Cloud-native; and Headless. The modular design of MACH solutions enables businesses to keep up with emerging technologies without undertaking multiple replatforming projects. With MACH, companies have the freedom to choose from the best technologies on the market that they can easily change to evolve their ecosystem as needed.
Additionally, MACH technologies replace single vendor systems where interdependence meant a single update could break part of the system. MACH applications are divided into a series of small, specialized components (microservices) that create a flexible framework upon which companies can evolve at their own pace. The API-first foundation of MACH technology makes content an easily-accessed service that supports delivery to any website, software platform, voice-activated device, and more. MACH answers the demand for omnichannel, personalized experiences that today's consumers crave.
These are just the basics of what MACH means and why modern businesses should care. Learn more by downloading the Break the Replatform Cycle with MACH Enterprise Architecture ebook.
___________________________________________________________________________________________
Today, business technology is evolving so quickly that some tools are on their way to being considered outdated almost as soon as companies implement them. The problem with that goes well beyond simple frustration — it also negatively impacts organizational progress.
According to Devada's "2019 State of the Developer Report," 66% of developers find that maintaining and "paying for" technical debt (aka the money, flexibility, and opportunity lost to a bad technical investment) associated with outdated technology is bad for their productivity at work. This is why it's no surprise that 64% of businesses list the need to upgrade outdated infrastructure as the top reason for increasing their IT budgets in 2020.

Unfortunately, removing suites, dependencies, and customizations can often take just as much effort as continuing to maintain them. But that cost was worth the reward for British media company The Spectator (read The Spectator's story in this newly-published enterprise architecture ebook).

"In terms of ability to innovate, everything had a cost associated with it, which put us off doing anything risky," said Tom Morgan, Director of Digital at The Spectator. "That meant our technology was stagnating — as was our ability to serve customers."
How did The Spectator implement an affordable solution to revive their enterprise technology, improve their customer experience, and grow their overall conversion rate — and how can your business replicate their success?
With MACH.
What is MACH?
Inspired by the speed at which software ecosystems serve enterprise customers and coined by a group of independent modern tech companies including commercetools, Contentstack, EPAM Systems, Inc., and ValTech; MACH is a term for technologies that are natively modular, pluggable, scalable, and easily updated via agile development to support a continuously-evolving digital experience.

MACH software relies on microservices; it is API-first (never added), cloud-native, and headless from the ground up. Let's dive deeper into what each of these MACH features means when it comes to business technology.


Microservices
Microservices architecture consists of a collection of small services that are used to build an application. Each service is created to perform a specific task. Additionally, each service can use different code and can be developed, updated, deployed, and maintained independently. The services use light-weight protocols and communicate through the application programming interface (API) technology that we'll discuss next.
API-First
API-first means that the application was built from the ground up with APIs and revolves around delivering content to omnichannel devices and client applications. An API-first approach involves developing APIs that are consistent and reusable using an API description language — including a contract on how an API is supposed to act.
Cloud-Native SaaS
Software-as-a-Service (SaaS) leverages the full capabilities of the cloud. Beyond storage and hosting, that includes elastic scaling of highly-available resources. Cloud-native SaaS technology is updated automatically by the vendor — no manual effort required by your team. APIs enable flexible and secure communication and can be easily adapted and implemented across all channels for customers.
Headless
With headless software, front-end presentation is completely decoupled from back-end logic. This separation enables business technology to be channel, programming language, and framework agnostic.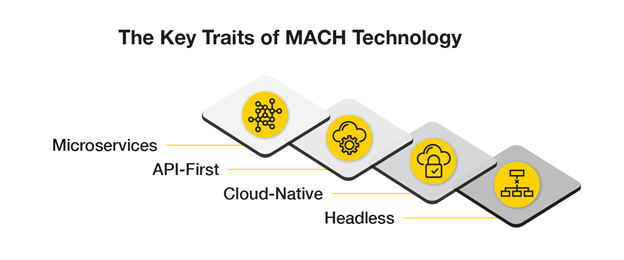 Why Does MACH Matter Today?
World-leading retail brands including Bang & Olufsen, EXPRESS, and others are outpacing the competition by adopting MACH software. These early adopters know that MACH architecture accelerates digital transformation to support the next generation of consumer and commerce experiences.
But MACH architecture doesn't apply only to the world of ecommerce. This modern infrastructure applies to any company looking to end the costly replatforming cycle, deliver modern digital experiences, and remain ready to scale at a moment's notice.
Put an End to the Expensive Replatforming Cycle
As hard as it may be to believe, the first iPhone was introduced 13 years ago. Today, 76% of people in advanced economies (and 45% in emerging ones) use smartphones. Then there were smart speakers, which made their debut six years ago with Amazon's Alexa voice assistant and Echo smart speaker. In 2019, an estimated 35% of U.S. households had at least one smart speaker. By 2025 it's thought that that number will reach 75%.
Technology is advancing, and consumers are becoming digitally fluent with increasing speed. But thanks to their modular design, MACH solutions give businesses the tools they need to keep up.
Making the switch to MACH is the last replatforming project an enterprise will ever need to face. With MACH, businesses have the freedom to choose from the best tools on the market so they can continuously remove, add, and replace technologies to evolve their ecosystem as needed.
"Part of the reason we went for [MACH] is that we don't want to ever go through a major replatforming again," said the director of digital technology at an iconic British luxury brand. "If a few years down the line, something emerges that is far and above what we have, we want to be able to adopt it without the barriers of the past. For the last ten years, unstitching technologies has been too big an effort and cost. The new architectural approach represented by headless provides more flexibility in evolving in the future."
Read more about making the move to MACH and how to replatform for the last time by downloading Break the Replatform Cycle with MACH Enterprise Architecture.
Build Endless Business Flexibility
MACH technologies create a flexible framework upon which companies can evolve at their own pace.
A suite architecture combines front-end and back-end processes into a single system. This interdependence means a single change to an application's code could affect — and even break — the entire tool. But by dividing an application into a series of smaller, specialized parts (aka microservices), a MACH approach gives developers the flexibility to use the right tools and the right code at the right time.
For example, think about breaking up a shopping experience into multiple microservices. You might have a different service for handling user profiles, managing the shopping catalog, checking inventory, processing credit cards, and tracking orders. With a shopping experience built on MACH technology, a business can update their catalog service as often as needed without negatively affecting any of the other services or environments. This speeds up development time and enables businesses to pivot with demand.
Microservices are transforming the business world. Just look at Netflix, Amazon, Twitter, PayPal, and eBay — all of which are examples of companies that moved from single vendor systems to a microservices-based architecture to enjoy unlimited flexibility and scale.
MACH Alliance founding member commercetools created a headless commerce platform where businesses can optimize their flexibility by monitoring all their different microservices, gaining insight into how everything is working together, addressing any performance issues, and customizing their microservices to meet unique business requirements.
Deliver The Modern Experiences Consumers Demand
Besides enabling microservices to communicate with each other, APIs also enable the omnichannel delivery of content to any device, channel, or platform.
A pinnacle of MACH technology, an API-first, headless content management system (CMS) separates content from how it's displayed so content can be created once then optimized and published to any channel at any time.
This API-first approach turns content from a static resource to a highly-accessible service that can be called by a website, a mobile device, a software platform, an automobile, a VR headset, a voice-activated device, a Jumbotron, and anything else tomorrow's technology brings. Additionally, APIs introduce extensibility so you can integrate any tech — localization tools, personalization engines, customer data integrations, etc. — to power the unique, omnichannel experiences that modern consumers crave.
Neha Sampat, CEO of Contentstack — another MACH Alliance founding member — explains why companies like hers are focusing on designing extensible products: "Companies are modernizing their approach to digital in stages. They need to be able to access new technology and tools while transitioning their stack over time. Modern software needs to integrate not only with other new technologies but also with legacy tools to make the wider digital transformation as smooth as possible."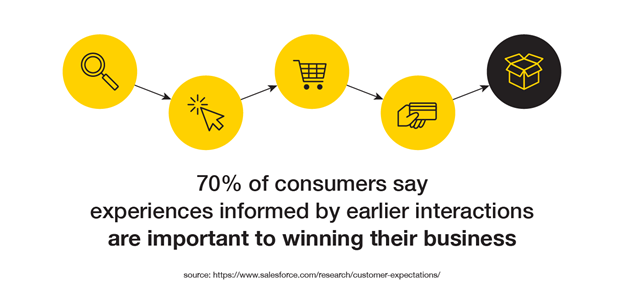 This is only the beginning of MACH technology, and these are just the basics of what MACH means and why every enterprise needs to invest if they want to remain relevant.