How a MACH-based DAM helps in driving agility and speed to market in an ever-growing library of media assets
Microservices-based, API-first, Cloud-native and Headless (MACH) architectures are fast becoming the technical must-have for large businesses. Not only is it used for e-commerce projects, we increasingly see how it is gaining popularity in numerous other verticals and for advancing digital projects, such as electronic publications on news and media sites.
When it comes to competitiveness in the digital market, one of the most critical functions for businesses lies in the hands of visual content management for brand consistency and improving user experience. Without the right processes and systems, a company can lose track of its visual content and lose an unmanageable amount of hours manipulating it again and again. Indeed, many CMS, PIM or ERPs providers give the ability to edit an image, enrich a file with metadata, or compress a video. The problem is not always the lack of features available, but rather the duplication of tasks, the redundancy of databases and the lack of stickiness from one platform to another.
With a MACH-based DAM solution, companies can master the daily lifecycle of their images, videos, documents and rich media while seamlessly integrating and connecting numerous other MarTech solutions.
What is Digital Asset Management and why is it important?
Digital Asset Management, or DAM, is a platform that centralizes, stores, manages, and optimizes all digital assets, including visuals, graphics, photographs, videos, documents, and audio. Its primary role is to support numerous cross-functional teams, from specialized creatives and tech-savvy developers to more generalized administrative functions within an organization and with external stakeholders in their daily content operations.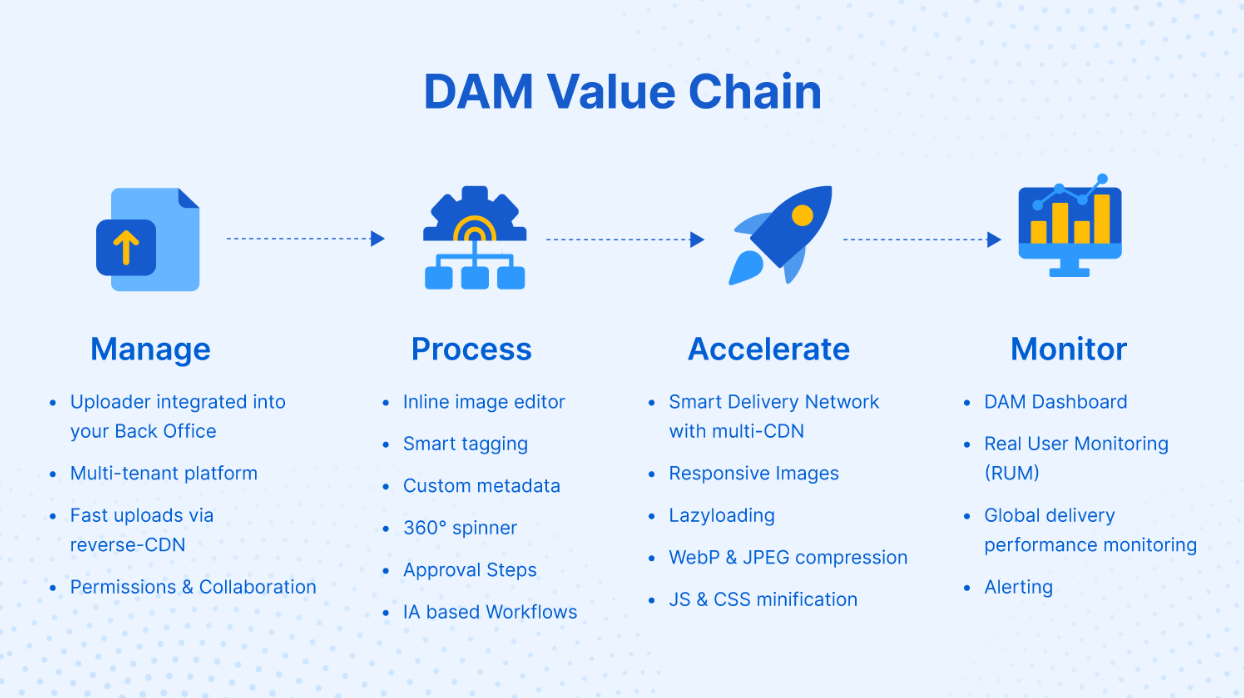 At every stage of the content lifecycle, DAM's core features enhance content operations and improve time-to-market.
DAM's core features enhance content operations and speed-to-market, and it is integral to every part of the content lifecycle:
Management
DAM's core features enhance content operations and speed-to-market, and it is integral to every part of the content lifecycle:
Uploading digital assets can be done via numerous means. Whether it is by marketers through an upload button, developers from a command line, or external partners using brand portals, DAM helps to ensure that your content is centralized, uploaded to the right location, and automatically categorized and optimized.
The DAM's duplicate management and versioning control features help to ensure that teams can always find the right asset via different ways of search (searchbar, collection, product, tags, labels, folders, etc.). DAMs provide customizable metadata and AI tagging capabilities that automatically tag large volumes of assets to enrich the search capabilities, allowing for a more efficient and productive retrieval process.
Process
Every project involves numerous members providing feedback, revising content, and finally, a manager validating the assets. Instead of sending to-and-fro emails, a DAM simplifies this process and encourages better collaboration by keeping workflows within a centralized platform.
Accelerate
DAMs that offer media optimization, image compression into next-gen formats and Content Delivery Network (CDNs) integrations can help publish content at maximum speed to users worldwide. Also, the dynamic links created for each variant of an image (thumbnail, banner, product picture etc.) contribute to reducing the amount of stored versions as they are served on-demand in the cache.
Monitor
Content that cannot be tracked will lose all its potential in the long run. By being the single source of truth, a DAM can truly provide business intelligence and a great deal of actionable leverage thanks to customizable dashboards to monitor and track your digital assets usage, requests, and activities inside and outside the content hub.
How MACH supercharges the DAM capabilities?
In many cases, the created content typically needs to go through numerous platforms, such as CMS, ERP or PIM platforms, leading to many duplications of content which takes up precious storage space and often causes issues with versioning. While headless DAMs with strong API integrations can help solve these challenges and allow each platform to work with one another, this is where a DAM with a MACH architecture can become more powerful. The philosophy behind a MACH-based DAM is to bring the content to the users instead of taking the users away from their daily back-office(s). Allowing users to focus fully on creating value for the company's customers rather than searching for visual assets drives efficiency.
Connecting best-of-breed technology vendors
A MACH architecture allows the seamless integration of best-of-breed software solutions in the CMS, PIM and ERP spaces, among others. Current trends show that enterprises are moving away from monolithic software platforms to be more agile, cost-efficient and less locked-in with a single vendor. In a MACH architecture, companies can rely either on native integrations built by vendors themselves, 3rd party providers or build purpose-fit integrations using the MACH-compliant vendor's APIs. This is where headless software products gain points when designing such integrations.
Allowing for agile workflows and customization
MACH allows for higher agility in a digital project. Whenever a new business need arises, you can quickly prototype, develop capabilities, increase or decrease the functional scope or connect a new API from a MACH vendor without affecting the rest of your systems. Switching vendors is also made easier in monolithic projects.
MACH architecture - headless in particular - reduces the time to adopt a new technology, from months to weeks. It empowers enterprises to stay ahead of their competition and be one of the first movers no matter what new trends appear on the market.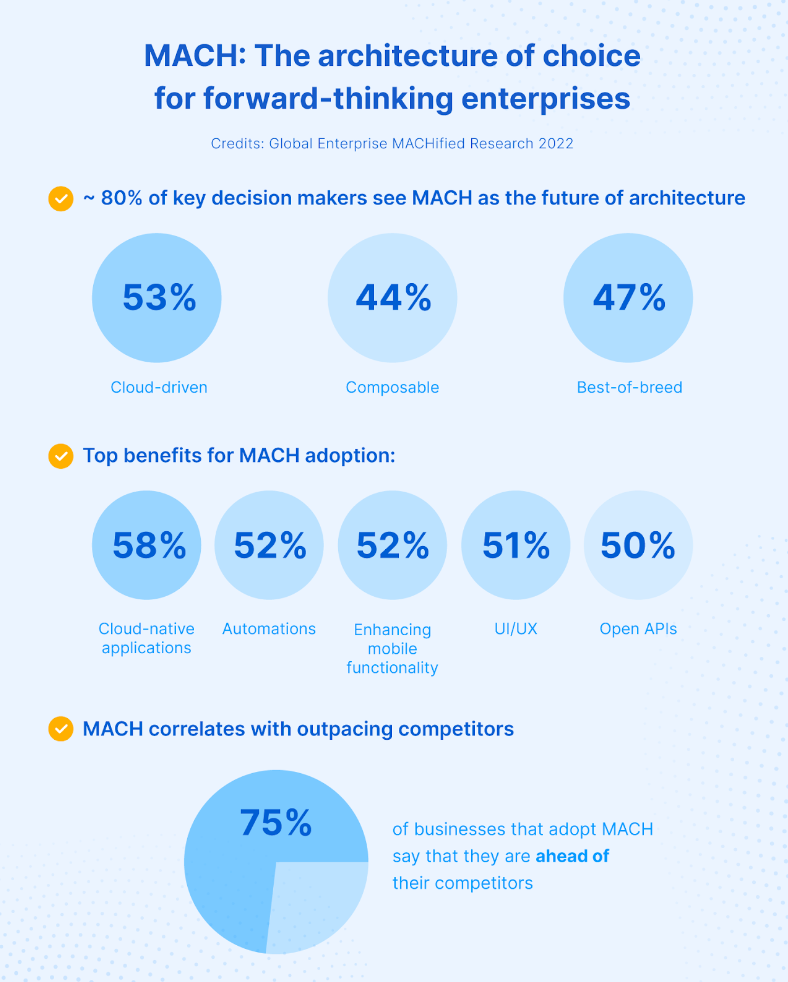 MACH adoption helps future-proof businesses by allowing flexible and agile workflows
Optimizing costs with future-proof software stacks
When companies invest in a MACH-based DAM, they invest in solutions they really need and not an entire suite of features they don't. Every company is unique, and each business has specific needs and requirements.
The beauty of the MACH approach is that enterprises have full control over the building of their technology stack. Costs are incurred only for the features the business needs in the current moment and can upgrade and scale according to the evolving future requirements.
Summary
Rather than focusing on making a less flexible DAM solution work for specific business needs, a MACH-based DAM returns the control to business leaders, allowing them to gain tailor-made solutions for their digital assets. And if businesses require other platforms like PIM, ERP, and CMS, they can be connected seamlessly via APIs.
The DAM platform with a MACH architecture can be the central source of truth for all the company's digital assets, improving collaboration among diverse teams, and increasing the content-to-market workflows. All in all, it also empowers agile businesses to stay ahead of the competition.