After welcoming our first group of Ambassadors, we are now proud to announce the next six to join the MACH Alliance. They have been carefully selected from the great amount of responses we have received.
Each is an expert in their respective field and is dedicated to promoting and supporting our cause. Get to know them below: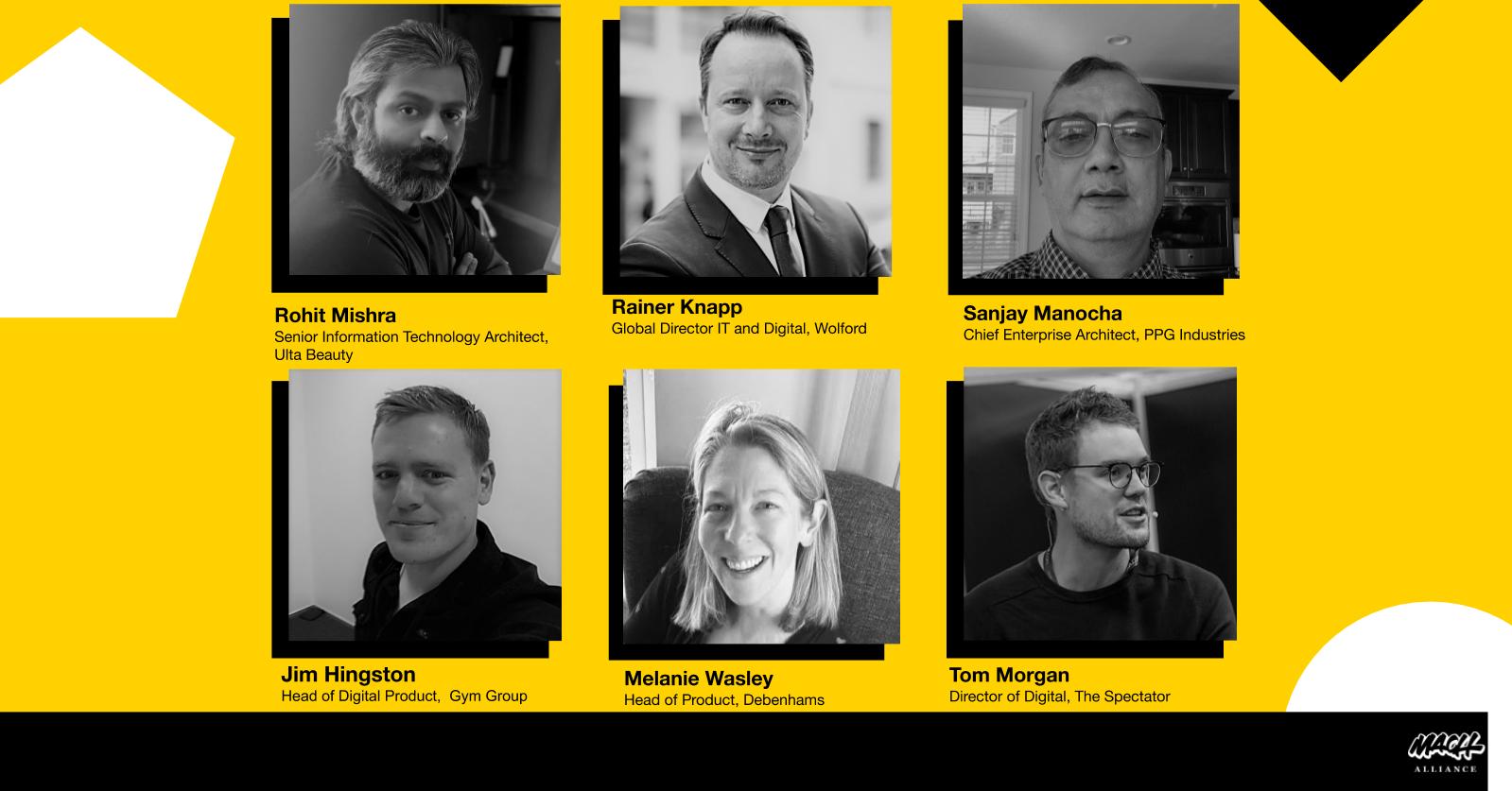 Rohit Mishra
With over 15 years of industry experience, Rohit has helped top retailers architect and build their digital commerce ecosystems, for past several years, he has been focused on modernization of digital commerce through adoption of microservices, public cloud, APIs, headless architectures, containerized infrastructure, 12-factor applications, open source tools and technologies, while ensuring that it remains a flexible, feasible and cost effective proposition to the enterprise. As a change agent, he also helps his organization adopt modern software development practices, DevOps and Site Reliability Engineering which provides a "must-have" foundation to sustain modern architectures such as microservices itself.
Rainer Knapp
Rainer Knapp is Global Director IT and Digital at Wolford, where he leads "Wolford X", a comprehensive Omnichannel digitization initiative, including all direct sales channels, including brick-and-mortar, online and social media. Within this program the application landscape in the B2C area is currently being rebuilt, based on an innovative architectural best-of-breed design, adhering to the principles of MACH. Rainer has been managing IT departments in the publishing, sports goods and fashion industry for more than 20 years.
Sanjay Manocha
Sanjay joined PPG in Jan. 2020 and has been helping define the future state Digital Architecture. He heads Digital Architecture practice in PPG, with a team of Solutions Architects focusing on AI/Ml, ecommerce and SAP (CRM) rollout. Prior to PPG, Sanjay worked as Principal Consultant with Infosys and has also worked as Principal Enterprise architect with Verizon for over 15 years. He has designed and executed large-scale, multimillion dollar digital transformation and systems integration projects for Verizon. Sanjay is an Electronics engineer from India with MBA in Finance, Marketing. Sanjay has a patent pending in Mobile Ordering.
Jim Hingston
Jim is Head of Digital Product at the Gym Group where he is responsible for their digital experience. Jim has led teams delivering, running and optimising using MACH technologies. He has experience getting buy in from boards to invest in Digital CX, formulating business cases and setting up programmes & partnerships for success. Prior to the Gym Group, Jim was at Debenhams where he led the delivery of the first PWA using a headless approach, a first in UK retail.

Melanie Wasley
Mel has over 15 years' experience working in digital and her career has focused on digital transformation for businesses in the financial services and retail sector. Most recently she has led the Product team at Debenhams in their journey to a headless front-end architecture giving her first hand experience of the technology and ways of working needed to do this.
Tom Morgan
Tom is Director of Digital at The Spectator, the world's oldest magazine. The Spectator provides the most stimulating discussion in Britain. It publishes elegant and original writing - to provoke, entertain and delight. Tom's job is to bring that to life across web, TV, email, podcasts and apps - combining creative and technology to bring about better conversation and debate in the digital space. He leads the digital strategy and delivery across all of the group's digital products.
In his spare time, Tom is an advisor to the UK government on digital Apprenticeships strategy – he is Vice Chair of a panel of senior UK business leaders, working to help address the digital skills gap in the UK by creating new Apprenticeships standards.
Stay in the loop
To stay in the loop about the latest insights of these experts, and to be the first to hear about upcoming ambassadors announcements, you can subscribe to our newsletter and follow us on LinkedIn and Twitter.
2022-08-16
MACH-Based Product Information Management – a Step Towards Composable Commerce
An interview with Casper Rasmussen, our new MACH Alliance President