Morten Næss, Executive Vice President Technology at Bluestone PIM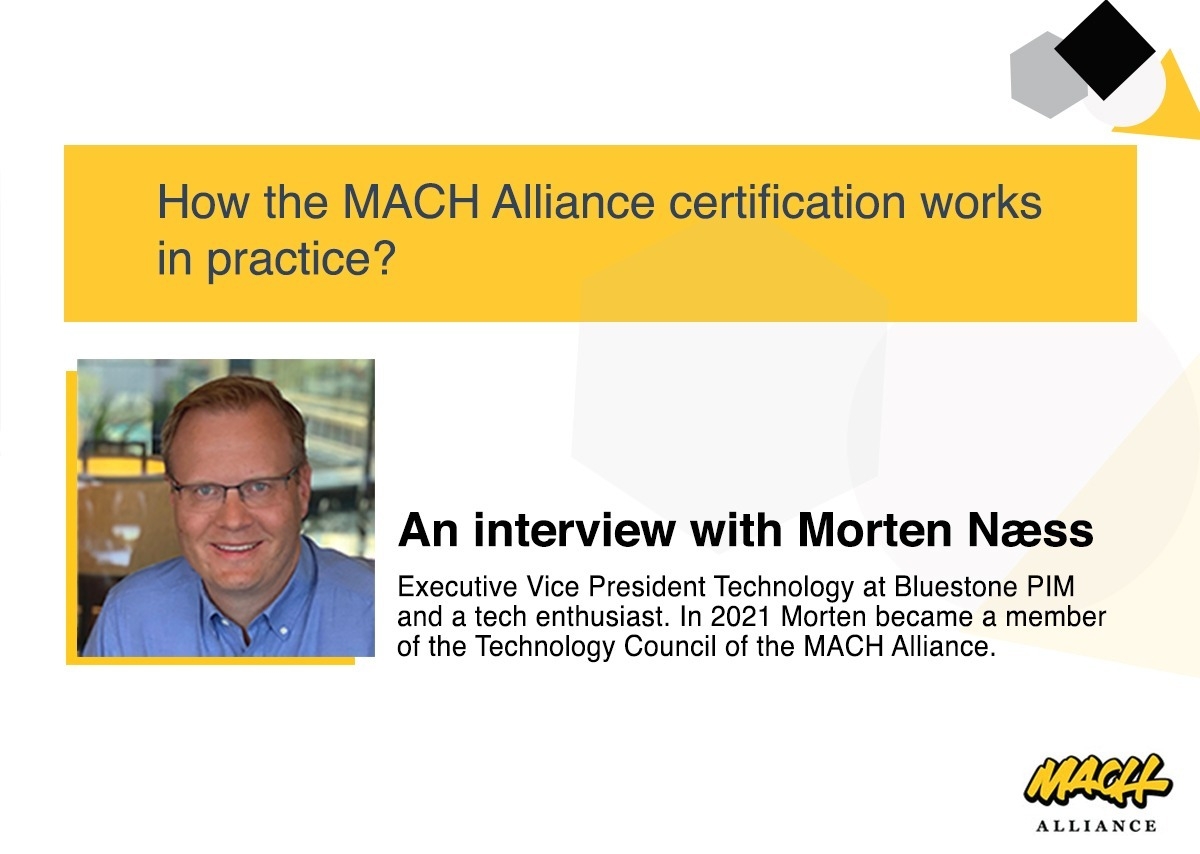 Morten Næss is Executive Vice President Technology at Bluestone PIM and a tech enthusiast. In 2021 Morten became a member of the Technology Council of the MACH Alliance.
------------------
The MACH Alliance is dedicated to helping companies benefit from the most innovative technical solutions. We share best practices to support businesses moving to a MACH architecture, and today we'd like to lift the curtain on our processes and vision.
We asked one of the members of the Technology Council, Morten Næss, to share his story as an early MACH advocate and a member of the Alliance's Tech Council.
You are currently a member of the technology council in MACH Alliance. Could you lift the curtain on the certification process?
There are a number of requirements that must be met in order to become a member, but the most important part is a series of marketing and technical interviews. Applicants must demonstrate that they have a true dedication toward MACH and that there is no MACH washing happening in their offering. For example, we do allow companies that still have a legacy product that they continue to support, but if they actively promote those next to modern products that would be MACH qualified, we do not extend the certification.
We want to make sure that the company applying for membership is living and breathing the MACH principles to avoid confusion for buyers. The Alliance certification needs to be a simple seal for being future-proof.
Also, one thing you should know about the selection process. The governance rules of the Alliance ensure that all decisions are unbiased and taken based on mostly binary criteria and by multiple people. For example, I can not be involved in evaluating another PIM or even Software vendors as a whole.
Why do you think companies should join the Alliance?
For me personally and for us as a company, it was definitely worth it to go through the selection process and become a member of the MACH Alliance. As I mentioned earlier, a lot has changed since the day Bluestone PIM joined as a certified member of the Alliance. Membership provides us with many opportunities in terms of the best technology and quality connections.
The Alliance supports connections between members - which makes all the sense since we think in 'stacks, not suites'. Nobody is on an island in a MACH-world. For example, SI companies that want to join the movement need to have partnerships in place with at least two existing Alliance members in order to be selected.
At the very beginning, everyone has the chance to expand their network and reach new audiences. Also, as a new member, you will get the platform to share what you do as a company and what you change in (the tech) world. It is the way to connect with like-minded people globally who will quite likely want to work with you and amplify what you have to say. You get as much from the Alliance as you put into it - being passive was never and nowhere a great part of being successful.
How to increase your chances of becoming a member of the MACH Alliance?
It might be easier for independent software vendors to become members. Such was the case with Bluestone PIM. Intuitively, we developed the technology using the principles of MACH. The result is very tangible, so it was easy to prove we were the right vendor to join the Alliance. Either you are MACH or you are not, and it is very hard to fake it.
Software integrators, on the other hand, have to prove that they focus on the MACH philosophy in their IT projects. This is something we look for when evaluating SIs.
To be selected, SIs must also become partners and complete projects with at least two MACH -certified software vendors.
It is also important that management is involved because this proves that the company has a strong strategy and goal in joining the MACH Alliance and that this is not a one-time project for them.
Also, the company should focus on the completed projects, not the future ones. This was the case with several companies we recently rejected - they could not provide us with any live cases. We are also looking for applicants that are not a "one trick pony". You can score a lot of points by showing some MACH diversity.



In your opinion, should all businesses move to MACH?
Of course, MACH is not for everyone. It will not make you successful or help you deliver to your customers if you do not know how to use it in your strategy.
If you are in the process of starting a business from scratch and have something global in mind, you should definitely consider the principles of MACH. MACH architecture can future-proof your software, and allow you to adapt to new trends in the marketplace as needed. This is especially useful in the e-commerce industry.
At this point in time, you will not find any other technology that is as flexible and scalable. So why not use the most modern solutions?
Morten, what is your story with MACH?
I started working with SaaS solutions in 2007. At the time, I was trying to convince people that this was the future. Now, 14 years later, it's nice to see that I was right.
About 5 years ago I joined Bluestone PIM, a SaaS solution for managing product information across a variety of channels. In the last 5 years, we have developed a future-proof product. Therefore, we have been committed to the principles of MACH from the beginning, even though MACH as a complete philosophy and movement did not exist at that time.
We are not the only ones developing with MACH architecture. Many software houses also feel that MACH is the best way to go and that's not going to change anytime soon.
Although the alliance was only formed in the summer of 2020, it is already changing the way business is done.
How did you find out about MACH Alliance?
Funny enough, we at Bluestone PIM found out about MACH Alliance by accident. Our CEO Einar Augedal found Alliance's website on the Internet and sent me the link.
When I read Alliance's manifesto, I realised: hey, that's us! So we had to apply, and everything has changed since then. It's been less than a year at the MACH Alliance, but so much has already happened.
When we applied, the MACH team was not that big. Now the Alliance is hiring more people, accepting new members, and expanding its presence in the tech community.
Is there something after MACH?
If I knew the answer to that question, I would be a very rich man right now (laughs).
Of course, there is still something after MACH. Having been in the industry for over 20 years now, I can say that the world will never standstill. When I was at university, PIM did not exist, and today we are developing this technology that helps e-commerce companies manage data. However, the beauty of MACH is that this trend will continue for a long time.