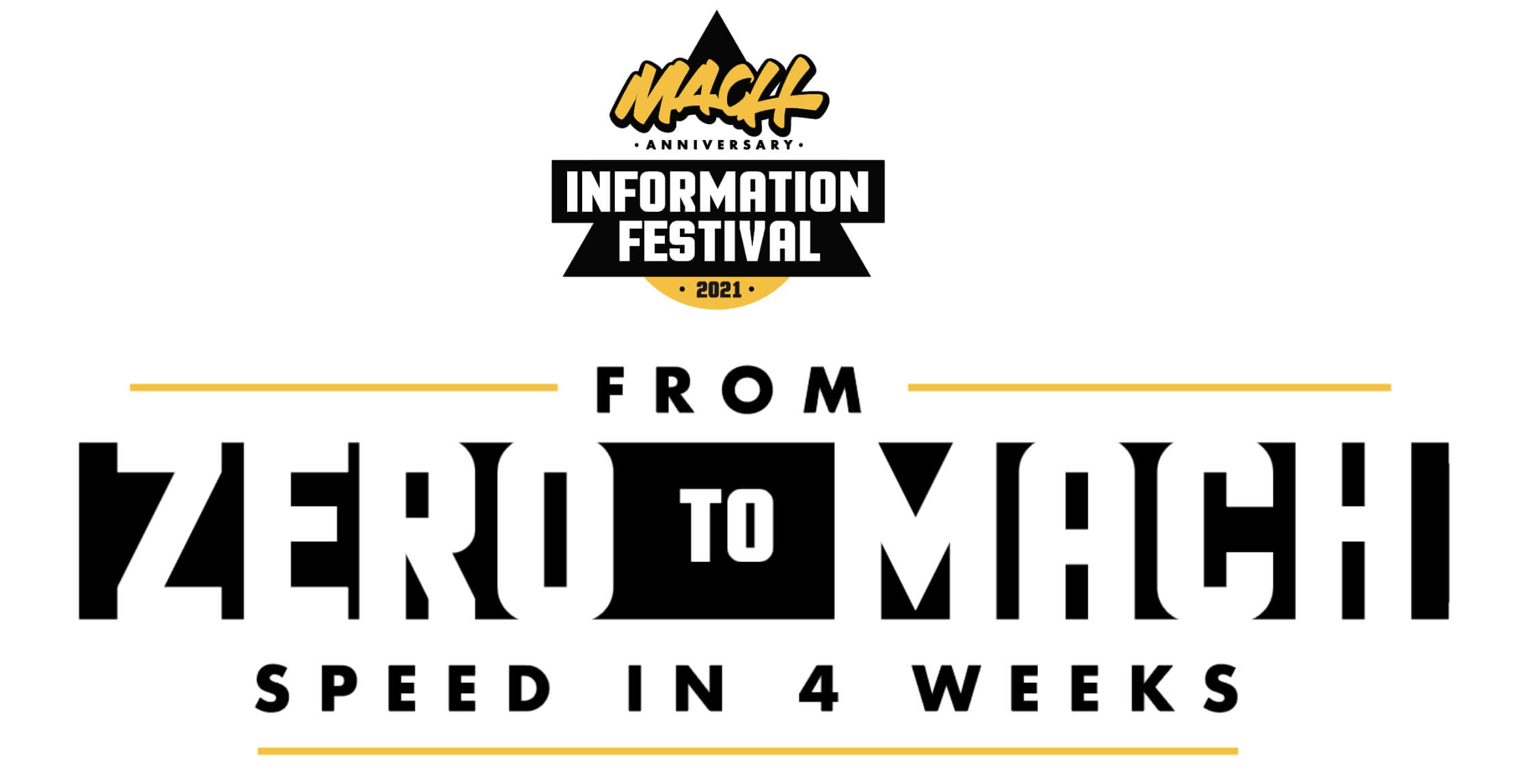 To celebrate its 1-year-anniversary and further accelerate its mission, the MACH Alliance is happy to present its first Information Festival: "From ZERO to MACH speed in 4 weeks". Over the course of the next 4 weeks, there will be up to 20 get-togethers with our select MACH Alliance Ambassadors on the Main Stage, designed to help leaders and companies navigate the complex modern technology landscape. You will find advice on how to get started, have a chance to learn how others have successfully transitioned and network with like-minded trailblazers. On the Second Stage you will find matching sessions put on by the various MACH Alliance members.
Please find all sessions in the calendar below, sorted by week. Sign up for as many sessions as you like, and feel free to pass on the invite to your colleagues and peers. We look forward to having you.
MACH 101
Successful MACH projects start with education. Leaders driving MACH transformations tend to be lifelong learners who are curious about the ins-and-outs of emerging technologies, and can cut through the jargon to make MACH click for everyone in the organization. Week 1 is all about getting familiar with MACH, with sessions that dive into the core principles, key benefits, and why these technologies are gaining so much steam in the enterprise space. For those already well versed in MACH, this week is a chance to pop in and pick up teaching tips from other business and technology leaders.
Main stage
28th Jun 2021 / 4pm CEST 10am EST
How to build a future-proof business model in changing times
Your entire business can be thought of as middleware in someone else's life. People bring your products and services into their world, combine them with a lifetime of experience (their legacy data), and keep them around as long as they add value. Then the world changes - and you either immediately fit into the new way of life or get left behind. How do companies flourish in an era where new technologies, demands, ways of working, mergers, and acquisitions keep business in a constant state of change?
1st Jul 2021 / 4pm CEST 10am EST
Flexibility as a Strategy
An onboarding to the MACH journey with a look at the common thought processes and business considerations that lead enterprises to explore microservices, APIs, cloud, and headless. Learn why some companies decide MACH isn't the right choice, how others are dipping their toe into MACH experience, and what drives the businesses that fully jump into a composable, MACH architecture.
Second stage
28th Jun 2021 / 3pm CEST 9am EST and 7pm CEST 1pm EST
Demystifying MACH architecture in a composable world
Integration is an essential part of MACH architectures, but integrations can come in many flavors. Looking at a composable Digital Experience Platform (DXP), this session walks through the types of integrations best suited to power omnichannel, drive personalization, simplify scale, and compose a MACH-based stack that best fits your needs
29th Jun 2021 / 3pm CEST 9am EST
Build digital experiences with speed and at scale using Experience APIs
Experience APIs are key to delivering shared data across channels and in context. Learn how progessive CX and Technology leaders are using these APIs to give customers a highly relevant experience on any touchpoint.
29th Jun 2021 / 5pm CEST 11am EST
Panel: Getting ahead of modern web challenges
A chat about Jamstack architecture, modern cloud platforms, and what it takes to transition infrastructure for the modern web. Panelists will dive into topics such as Edge Cloud Computing, performance, security and how companies can free themselves from the rigidity of a monolithic infrastructure.
30th Jun 2021 / 5pm CEST 11am EST
The Digital Battleground: Why MACH is your secret weapon in the fight for attention
What does it take to win on the digital battleground today? In this session, two digital industry veterans who have helped hundreds of enterprise companies thrive in the digital landscape in the past year share the way to win—and why the MACH (Microservices, API-first, Cloud-native, Headless) philosophy is essential for success.
30th Jun 2021 / 8pm CEST 2pm EST
Future-proof: Commerce Tech adapts to digital-first consumers
Can your technology infrastructure support the future of commerce? In this webinar, Myplanet and Forrester dive into the key questions, every executive should be asking, then discuss the two paths companies can take.
1st Jul 2021 / 6pm CEST 12pm EST
Why MACH is important for digital promotions and loyalty?
How would your relationship with customers change if you weren't locked into the cumbersome rules of monolithic promotion tools? Have a look at how companies and customers are getting the most out of reward programs by powering incentives, referrals, and loyalty with a MACH promotion engine.